Liverpool reports ticketing cyberattack to data protection regulator
Liverpool fans have been warned of another potential data breach via the club's ticketing services.
Ahead of the start of the Premier League season later today, the club is writing to a group of supporters who used online and telephone ticketing services in 2012 following unauthorised external access to an employee account. Liverpool has advised the fans to change their passwords.
The club has also reported the incident to the police and Information Commissioner's Office, which regulates data protection in the UK, and launched an internal investigation.
The club last month admitted that some season ticket holder information has been stolen from a club email account. While Liverpool said there is no evidence that any supporter accounts have been accessed, it reset online passwords and has issued guidance to those affected.
Speaking about the new breach data, chief executive Peter Moore said: "We take privacy and the security of the personal information we hold extremely seriously. Unfortunately, we have determined that recently there has been unauthorised access to an LFC staff account.
"Upon discovering the incident, we immediately took steps to ensure that no further unauthorised access would be possible.
"We have no evidence to suggest any fraudulent use of personal information and continue to work closely with experts in this field and monitor for any suspicious activity."
https://www.theticketingbusiness.com/2018/08/10/liverpool-reports-ticketing-cyberattack-data-protection-regulator/?utm_source=TTB+-+TheTicketingBusiness+NEWS&utm_campaign=a3a26253ce-EMAIL_CAMPAIGN_2017_01_04_COPY_01&utm_medium=email&utm_term=0_fc47d2bf36-a3a26253ce-24413317&mc_cid=a3a26253ce&mc_eid=c5c7a5da61
By Joe Lemire / August 9, 2018
Just two days before the PGA Championship, hackers breached the computer servers of the PGA of America, locked officials out of important files for the tournament, and demanded ransom to reinstate access. Golfweek reported the attack and noted that the hackers' message included a Bitcoin wallet number, although did not specify the ransom amount.
A PGA spokesperson declined comment, citing the ongoing nature of the investigation. One source told Golfweek that the golf organization had no intention to meet the demands.
The magazine noted that the affected files included creative materials—banners, logos, and signage—for both the PGA Championship at St. Louis' Bellerive Country Club and the Ryder Cup that begins on Sept. 28 in the Parisian suburbs. The hackers' message read, in part: "Your network has been penetrated. All files on each host in the network have been encrypted with a strong algorythm [sic]."
SportTechie Takeaway
The impact of Russian hackers on the 2016 national elections broadly increased awareness of the need for cybersecurity. Sports had a hacking crisis that same year when confidential information in the World Anti-Doping Agency database was stolen and released. Last month, Fenway Park hosted a panel on the need for venue safety and security that covered the need to protect computer systems. Groups dedicated to sports cybersecurity have also begun emerging, including the Sports ISAO (Information Sharing and Analysis Organizations). In 2015, President Barack Obama issued an executive order directing the Department of Homeland Security to foster the creation and efforts of ISAOs.
https://www.sporttechie.com/hackers-reportedly-breach-pga-servers-demand-bitcoin-ransom/?utm_source=SportTechie+Updates&utm_campaign=8604f713d8-SportTechie_Weekly_News_8_12_2018&utm_medium=email&utm_term=0_5d2e0c085b-8604f713d8-294396349
August 15, 2018 Olivia Perreault
While concertgoers gathered around to see a rap artist at O Marisquiño Festival in Vigo, Spain this past Sunday night, part of the wooden platform collapsed, injuring more than 300 people.
During rapper Rels B's first song on stage, he told the crowd to jump, and suddenly, the wooden platform gave way.
"The floor [of the platform] dropped like a lift. It was a matter of five seconds," Aitana Alonso told a local newspaper. "It broke and we all fell. People fell on me. I had trouble getting out. I was trying to get out and skidded, my foot got stuck, in the water. I got it out. A boy gave me his hand and I got out. I felt paralysed and [then] I left. There was a girl with blood on her head."
According to witnesses, there were scenes of panic as concertgoers tried to scramble off the platform, some falling into the sea. Several emergency teams were at the scene and attended the injured while divers went into the sea to make sure no one was trapped underneath the structure.
"Suddenly everyone disappeared and everyone was trampling on everyone else as they tried to escape," 19-year-old Alicia Ulloa said. "I was with a group of friends when the people beside us fell, as though something had dragged them down. It's a miracle it wasn't worse because the concert had just begun and lots of my friends hadn't arrived yet."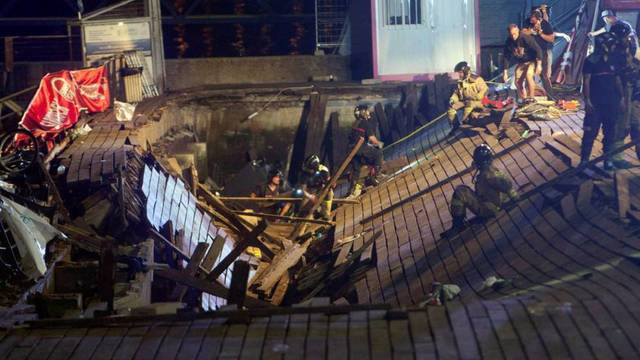 Police confirmed that there were no fatalities, but 300 people were injured including five seriously.
"These are provisional figures, patients are still being evaluated," regional health minister Jesus Vazquez Almuina told a local radio station. "The vast majority are light injuries for bruises. There are five hospitalisations, mainly broken bones and some head injuries."
In a tweet, Rels B wished strength to those injured and urged anyone worried about friends or relatives to contact an emergency information point.
It was unclear whether the platform collapsed because there were too many people on it or if the structure was weak to begin with. However, according to the Spanish publication EsDiario, the president of the PP of Vigo had warned the socialist mayor that the platform consisted of broken wood, presenting a "dangerous situation," yet nothing was done in precaution before the festival.
O Marisquiño is a free, three-day festival that takes place annually in Vigo right on the estuary Ria de Vigo. Each year, it brings in more than 160,000 attendees.
https://www.ticketnews.com/2018/08/hundreds-injured-at-festival-in-spain/?utm_source=Ticket+News+Updates+-+8.15.18&utm_campaign=TicketNews081418&utm_medium=email
John Bacon, USA TODAY Published 11:37 a.m. ET July 17, 2018
A lawsuit filed by MGM Resorts International, owner of the Las Vegas hotel from which Stephen Paddock fatally shot 58 people and wounded hundreds, is drawing outrage from survivors of the deadliest mass shooting in U.S. history.
The suit filed against hundreds of the victims of the rampage Oct. 1 outside the Mandalay Bay hotel claims the entertainment giant has "no liability of any kind."
MGM said in a statement the filing was meant to provide a "timely resolution" for shooting victims who sued or will sue in the aftermath of the attack during the Route 91 Harvest Festival. MGM said litigation filed against it "must be dismissed."
"The unforeseeable events of October 1st affected thousands of people in Las Vegas and throughout North America," MGM Resorts spokeswoman Debra DeShong said in a statement. "From the day of this tragedy, we have focused on the recovery of those impacted by the despicable act of one evil individual."
More: 'There's people shot everywhere!': Las Vegas shooting 911 calls released
More: Documents detail terror, chaos during deadly Las Vegas shooting rampage
Brian Claypool, a survivor of the rampage who represents 75 survivors and victims' family members, called MGM's lawsuit "a stunt" that won't survive a court challenge.
"I am still in therapy once a week, and this is their way of trying to solve the problem," he said. "It's shifting responsibility and minimizing their blatant negligence."
Robert Eglet, whose firm represents hundreds of people in the case, dismissed MGM's claim as "outrageous" and accused the company of trying to intimidate victims. Very few of his clients have filed suit and some never will, he said.
"In my 30 years of practice, this is the most reprehensible behavior I have ever seen a defendant engage in," Eglet said. "They are trying to victimize these people twice."
MGM's lawsuit claims the case must be dealt with in federal court under terms of the post-9/11 Safety Act, which provides incentives for development and deployment of anti-terrorism technologies. The company says the security firm it contracted for the concert, CSC, was approved by the Department of Homeland Security, thus released from liability under the act.
Eglet and Claypool said that release does not extend to the hotel.
"The Safety Act doesn't apply to them, it applies to CSC," Eglet said. "MGM has nothing to do with CSC."
Eglet said there was no reason to file the suit since the issue of jurisdiction is already being argued in court. He said MGM is "judge shopping."
"They are trying to find a judge they like," he said. "All they have done is cause a tremendous amount of stress, pouring gasoline on the fire."
Carl Tobias, a professor at the University of Richmond School of Law in Virginia, said the company may be able to convince a federal judge with its arguments, but that would come at a price.
"Even if MGM is successful, that may not outweigh the adverse publicity for the company that the suit generates," he told USA TODAY.
MGM took a hit on social media.
"This is just OUTRAGEOUS & WRONG," tweeted JoAnn Smith, whose profile says she is a security officer in Las Vegas. Crypto Contrarian tweeted that "being a Las Vegan, I must speak out about this. Can MGM not see how harmful this will be?"
Paddock fired more than 1,000 rounds from a 32nd-floor hotel room overlooking the concert. He was found dead of a self-inflicted gunshot wound in the room.
Numerous lawyers in Las Vegas feature the shooting on their websites, some calling out MGM and the concert promoter for providing inadequate security.
"A gunman bringing more than two dozen firearms into a hotel room, including military-style assault weapons, is almost unthinkable," the Ladah Law Firm says on its website. "There are serious questions about the security procedures at the Mandalay Bay."
The write-up says, "If you so much as take a casino chip off of a table you will no doubt be immediately surrounded by security guards; yet, nothing was done in this case."
Claypool said MGM should spend money on safety consultants, not lawyers developing "desperate arguments" designed to avoid responsibility.
"Fixing security would be the socially responsible thing to do," he said. "But instead they're offending every person on the planet with their moral indignity."
https://www.usatoday.com/story/news/nation/2018/07/17/mgm-resorts-sues-victims-las-vegas-massacre-denies-liability/791511002/
'ABSOLUTE CHAOS'
Eminem fans 'trampled on and left struggling to breathe' after thousands of concert-goers bags 'dumped on floor' after Twickenham gig
Tom Rosher witnessed people being 'trampled on' as others rushed to collect their belongings at Twickenham Stadium, West London
Exclusive
By Aletha Adu
15th July 2018
EMINEM fans were trampled on in chaotic scenes after thousands of bags were "dumped on the floor" for concert-goers to collect after the show.
Fans who flocked to London's Twickenham Stadium on Saturday night said security officials sparked a violent free-for-all with people's belongings after the concert.
A sea of Eminem fans left waiting for at least 90 minutes, after finding their belongings 'dumped on the floor', before chaotic scenes
Tom Rosher, 21, from West London, witnessed people being "trampled on" and "left struggling to breathe" as others rushed to collected their belongings which were left open to theft.
He told Sun Online: "People were being pushed against fences, people were being trampled on, while some were falling over left, right and centre.
"Other people were struggling to breathe, it was absolutely mental. A huge guy used my girlfriend as a leaning post as he forced himself past hundreds to get to his belongings.
"The officials had no clue. They were just standing there like headless chickens."
Eminem performing at Twickenham's Stadium on July 14
Tom said security staff forced him to leave his girlfriend's Michael Kors bag, worth more than £100, in a storage container upon entry, even though it met stadium rules.
He also claimed he saw other concert-goers with huge rucksacks on their back inside the venue.
Tom said: "Who thought it would be a good idea to have six members of staff, monitoring containers which had thousands of people's belongings?
"When fights started breaking out, one official picked up a random Gucci bag and asked whose it was? I saw this randomer think to himself before claiming it.
Twickenham Stadium advised fans to not bring bags, and if they did, it could only be an A5 size
"Anyone with malicious intent, could enter the gig with a £20 bag, and leave with one worth more than £200."
"When I asked [security] what happened one said 'It's not my fault, it's not my fault, I'm new'. Another said 'I'm not paid enough to deal with this'."
Dozens of fans questioned why stadium officials introduced the bag policy if they were not going to follow it.
One said: "Poor form at Twickers last night for Eminem. No consistency with allowed bag sizes and the bag drop off, was a disgraceful mess/free-for-all.
"Pointless putting tickets on bags, if no staff are there to monitor it. Bags could've been easily stolen! #twickenhamstadium #Eminem."
The mum of one Eminem fan said: "My son was forced to miss transport home due to lack of organisation when collecting his bag!! #Twickenham #Eminem #outofpocket this ruined what should have been a fantastic night that he saved for….. what a joke!!"
Stadium officials offered online guidance on what type of bags to bring, which said:"Eminem along with his touring partners and Twickenham Stadium strongly encourages fans to not bring any type of bags to this show.
"Fans however will be able to carry… small clutch bags approximately A5 size with or without a handle or strap.
https://www.thesun.co.uk/news/6785975/eminem-twickenham-stadium-fans-bags-dumped-west-london/
6/17/2018
By: Associated Press
Gunmen opened fire at an all-night arts and music festival early Sunday morning, sending people running over each other in the scramble to safety, authorities said. One suspect was killed and 22 people, including two suspects, were injured.
Of 17 people treated for gunshot wounds, four of them, including a 13-year-old boy, were critically injured but three had been upgraded to stable by evening, leaving only one man believed to be a suspect in critical condition, Mercer County Prosecutor Angelo Onofri.
The shots rang out around 2:45 a.m. Sunday as an estimated 1,000 or more people were attending the Art All Night Trenton festival that showcases local art, music, food and films.
Onofri said numerous fights inside and outside had prompted police to tell organizers that the event needed to be shut down because "there was a report that the mood inside the venue had been changing." Organizers were in the process of doing that when the shooting started, he said.
Authorities believe several neighborhood gangs had a dispute at the venue, and multiple suspects began shooting at each other, with police returning fire, Onofri said.
Tahaij Wells, 33, the suspect who was killed, had recently been released from prison and was on parole since February on homicide-related charges, Onofri said. Amir Armstrong, 23, listed in stable condition, was charged with a weapons offense. It was not immediately known if he had an attorney who could comment.
Multiple weapons were confiscated, including a handgun with an extended capacity magazine containing more ammunition than is allowed under New Jersey law, Onofri said.
On Sunday, crime scene tape surrounded the site of the historic Roebling Wire Works Building that now shares a parking lot with a supermarket, bank and laundry.
Police were also investigating an attempted carjacking that occurred in a nearby alley. Onofri said police were working to determine if it's connected to the shooting.
Gennie Darisme was getting ready to leave the festival when she heard shots and saw people running.
"There were people trampling other people, cars hitting other cars," she said.
When she was walking back to her car after the shots stopped, Darisme said she saw someone bleeding on the ground, in handcuffs.
"People were running to him, trying to see his face, to see if he's a family member or a friend," she said.
Theresa Brown, who has been volunteering at Art All Night for 12 years, said she was leaving her volunteer shift when she heard "pop, pop, pop. I thought it was a car backfiring," she said.
The remainder of the two-day festival has been canceled.
"We're very shocked. We're deeply saddened. Our hearts ache and our eyes are blurry but our dedication and resolve to building a better Trenton through community, creativity and inspiration will never fade. Not tonight. Not ever," festival organizers posted on social media.
The injured were taken to area hospitals, where some had been treated and released.
Trenton Mayor Eric E. Jackson said the violence can't be "discarded as just random violence; this is a public health issue."
https://www.pollstar.com/article/gunfire-erupts-at-new-jersey-arts-festival-22-wounded-135702
Monday, 6/11/2018
By: Associated Press
Officials say a person has died while attending the
Bonnaroo
Music and Arts Festival in Tennessee.
News outlets report Coffee County Sheriff Steve Graves confirmed a body was found Friday morning at a festival campground. Coffee County sheriff's spokesman Lucky Knott says officials are investigating the cause of death but foul play is not suspected.
Officials did not release the person's name.
Graves said dozens of people have been treated for heat-related issues at the festival that began Thursday in Manchester and runs through Sunday.
https://www.pollstar.com/article/1-dead-at-bonnaroo-dozens-treated-for-heat-related-issues-135642
Woman jailed after allegedly setting fires at Kauffman Stadium
June 6, 2018 by Post Staff 0 Comments
KANSAS CITY — Law enforcement authorities are investigating a suspect who allegedly set fires inside Kauffman Stadium early Wednesday.
Just before 5a.m. Wednesday, officers were dispatched to Kauffman Stadium at 1 Royal Way in regard to an EMS call, according to Darin Snapp with KCPD.
A stadium security officer told police that just after 4:30 a.m. he made contact with a woman later identified as 31-year-old Bridget L. Depriest who had unlawfully entered the stadium.
The security officer noticed her on the field with a flashlight and made contact with her.
Depriest told security she had been in the park since approximately 8 a.m. Tuesday and had entered through a gate on the southeast side of the stadium.
She stated she had been there all day and had walked the field and stadium.
The security officer stated there was what appeared to be trash and a bag out on the field. He told the woman to collect it and leave. After collecting the items and putting them in a bag she left them by the south side dugout.
The security officer showed police where debris had been left on the field. When checking the field it was discovered that Depriest had set three small fires on the field causing small burn marks in the grass.
During an area canvass, authorities located Depriest outside the stadium on the south east side near a vehicle gate. She was taken into custody and transported to East Patrol for booking. She was issued a summons for trespassing and openly burning resulting in property damage, according to Snapp.
Officials will review security footage to determine how long Depriest had been in the stadium.
The Royals played in Anaheim, California Tuesday. They lost to the Angels 1-0.
https://www.hayspost.com/2018/06/06/woman-jailed-after-allegedly-setting-fires-at-kauffman-stadium/
Tyson Fury vs Sefer Seferi crowd fight: Shocking moment huge brawl breaks out during Manchester Arena bout
This is the shocking moment a huge brawl broke out in the crowd during Tyson Fury's boxing comeback against Sefer Seferi.
Footage has emerged on social media of a large group out of their chairs and throwing punches during the bout at Manchester Arena.
The scuffle broke out with about one minute to go in the second round of the much anticipated fight, and both boxers seemed visibly distracted as it unfolded.
By round three the brawling is understood to have died down after arena security moved in.
https://www.standard.co.uk/news/uk/shocking-moment-huge-brawl-breaks-out-during-tyson-fury-vs-sefer-seferi-fight-at-manchester-arena-a3859481.html
MOSCOW — A soccer fan blacklisted by Russian authorities for bad behavior was granted a document allowing him to attend World Cup matches, while several other fans have skirted a stadium ban, Reuters has found.
Russia has vowed to crack down on crowd unrest ahead of the World Cup, to be held from June 14 to July 15, and to weed out troublemakers by screening fans.
However, documents seen by Reuters show that Pavel Cherkas, a 32-year-old fan who was blacklisted last year for being drunk at a match, applied for and received a World Cup fan ID after the ban had taken effect.
Cherkas, who has attended matches despite being banned by the Interior Ministry, showed Reuters his World Cup fan ID, a document that is mandatory to attend matches and proves he has been approved by Russian authorities.
After Reuters asked the Ministry of Communications and Mass Media, which oversees the fan ID program, how a blacklisted fan was cleared to attend the World Cup, Cherkas was informed his ID had been revoked, without explanation.
The ministry said a fan ID can be canceled to ensure security or public order, or if it receives information about violations by spectators at events in or outside Russia.
Russia has pledged to curb stadium violence at the World Cup, hoping to expunge memories of brawls between Russian and English fans in Marseille during the 2016 European championship.
Fans say authorities have cracked down on hooligans in recent years and violence is less prevalent. But Russia still wants to show it is taking action and has launched a fan blacklist, which contains more than 400 names, although few violent cases.
However, Reuters has found that the authorities have not been systematically enforcing the list.
"I'm not saying the government is wrong in banning fans," said Cherkas, smoking at a picnic table in central Moscow.
"But if they do, they should do so effectively."
Reuters did not find other cases of blacklisted fans obtaining World Cup fan IDs and could not establish how widespread the problem was. Another blacklisted fan said his ID application had been rejected.
The dates on Cherkas' ban were amended this month in what the interior ministry told him was a mix-up with another fan. His ban, which was to expire during the World Cup, is now listed as lasting until May 21. It remains unclear whether he will be granted another fan ID to attend two World Cup matches taking place on dates covered by his initial ban.
Nine blacklisted fans, including Cherkas, said they had regularly skirted the ban. Reuters reporters saw one of them at a match last month, while others provided photographic evidence of themselves attending sporting events while banned.
FIFA and the World Cup local organizing committee referred questions about how a blacklisted person could obtain a fan ID to the communications ministry, which said the document was issued at the discretion of federal security authorities.
STADIUM OUTING
Two Reuters reporters witnessed a blacklisted fan enter Moscow's Spartak Stadium, a World Cup venue, for a Russian Cup match last month. With a ticket bearing his name in hand, the fan, a man in his mid-20s wearing red Air Jordan running shoes and a black beanie, made his way into the venue unobstructed.
The reporters remained with the fan, banned from attending sporting events last year for having lit a flare at a Russian Premier League match, throughout the match and left the stadium at the same time. He was not approached by stadium or security officials, nor was the name on his ticket checked.
At the stadium, he flipped through pictures on his iPhone of sporting events he had attended while banned, including Russian Premier League matches, an international soccer friendly, and a match at the 2017 Confederations Cup.
Reuters was able to contact 117 people on the blacklist, which contained 423 names as of March 20. Thirty-two agreed to speak, all but one under condition of anonymity.
Although the authorities have not been rigorously enforcing the list, they have taken some steps against hooliganism.
Police visit some fans known to authorities even though they are not officially banned. Some have been asked to promise not to disrupt the World Cup.
"I pledge not to organize or take part in fights, illegal actions and mass riots at sports facilities or on the territory of the Moscow region," a form handed by police to one fan read.
But the blacklisted fans are not Russia's most violent.
More than a third were included for lighting flares, smoke bombs or firecrackers or attempting to do so. Another 20 percent were banned for public drunkenness. One was blacklisted for kicking another fan.
LEGAL LAXITY
Loopholes in the blacklist law make it hard to enforce.
Although meant to keep problematic fans out of stadiums, the law does not outline the events where identification is mandatory or where ticket holders must be checked against the blacklist. In any case, few events require identification.
"Many people were preventively included on the blacklist ahead of the World Cup for one reason or another. The authorities probably fear provocations," said one fan, banned for tossing a flare at a Moscow stadium.
"At the police station, we were told there was an order to come up with a percentage of blacklisted fans."
The Interior Ministry did not respond when asked whether it had ordered a certain number of fans to be banned or whether it knew that some blacklisted fans regularly attended matches.
(Reporting by Gabrielle Tétrault-Farber and Maxim Rodionov; Writing by Gabrielle Tétrault-Farber; Editing by Giles Elgood)
https://www.nytimes.com/reuters/2018/05/25/sports/soccer/25reuters-soccer-worldcup-blacklist-exclusive.html?utm_source=Main+Mailing+List&utm_campaign=a1cbfb714d-EMAIL_CAMPAIGN_2018_01_18_COPY_01&utm_medium=email&utm_term=0_4eada278ac-a1cbfb714d-295136453