Sat, July 17, 2021
A terrifying scene unfolded at Nationals Park on Saturday, enough to suspend a game against the San Diego Padres.
Four people were shot directly outside the stadium's third base gate, the DC Police Department confirmed on Twitter. Police told The Washington Post that a man had been shot in the leg and a woman shot in the back, while two others walked into local hospitals for treatment.
The Nationals reacted to the confusion by cautioning fans to stay inside the stadium, but later confirmed there had been a shooting and encouraged fans to exit through gates in the outfield. The building was later evacuated, including the press box, while the police blocked off the scene of the crime.
Sam Fortier of The Washington Post reports that stadium employees called the incident a drive-by shooting.
The shots appeared partially audible on the MASN broadcast as the Nationals returned to the dugout after the top of the sixth inning:
Sounds of gunshots were clearly audible in the park, to the point that several fans could be seen fleeing out of the center field and right field gates in the immediate aftermath.
Even Nationals and Padres players weren't immune to the panic. Padres stars Fernando Tatis Jr. and Manny Machado reportedly opened the gate to the field so spectators could run into the dugout with them, while Nationals pitcher Patrick Corbin, who started the game, was seen in the concourse.
https://currently.att.yahoo.com/att/nationals-padres-game-called-shooting-nationals-park-gate-mlb-020425378.html?.tsrc=daily_mail&uh_test=1_11
John Bacon, USA TODAY
Sun, July 18, 2021
Authorities on Sunday were investigating the deaths of four people at a three-day country musical festival in Michigan, including three men found dead in a travel trailer of suspected carbon monoxide poisoning.
Lenawee County Sheriff's officials said they received a 911 call about "unresponsive persons" at a campground near the Faster Horses Festival in Brooklyn. First responders arrived to find five unconscious men in their early 20s inside the trailer. Three were pronounced dead at the scene, and two were taken by ambulance to a local hospital in critical condition and were being treated for acute carbon monoxide poisoning, the sheriff's office said in a statement.
Investigators said the caller was a friend who became concerned when he had not heard from the men.
"This tragic incident is being investigated as a suspected carbon monoxide exposure from a generator located very near the travel trailer," the statement said.
Nationals-Padres game suspended after three wounded in shooting outside Nationals Park in Washington D.C.
Also Sunday, state police were investigating the death of Melissa Donna Havens, 30. An autopsy and toxicology tests were being performed on Havens, whose body was found early Saturday. Detectives were seeking the public's help in identifying a man Havens was seen with within 24 hours of her body being found.
"Detectives want the public to know there is no danger or threats to people" at the festival, state police said.
The event drew thousands to the Michigan International Speedway, 80 miles west of Detroit. The last band was scheduled to play Sunday evening. Organizers did not immediately respond to a request for comment from USA TODAY, and no mention of the deaths appeared on the festival's social media as of Sunday morning.
Organizers do address the use of generators at campsites on their festival fact sheet, saying generators can be used except in the infield. But the approval comes with a warning.
"Campsites are very close together, so we request that all Festival campers be considerate of their camping neighbors when utilizing a generator," the fact sheet says. "To avoid excessive amounts of carbon monoxide and noise, please "pipe up" internal generators. This will allow the exhaust to be released above the RV and not into your neighbors' camping area."
This article originally appeared on USA TODAY: Carbon monoxide deaths, illnesses in Michigan
https://www.yahoo.com/news/4-die-faster-horses-festival-152630508.html
The Metropolitan Police has denied that its operation failed ahead of Sunday's UEFA Euro 2020 final at Wembley and has said that the match "could have been abandoned" without the immediate intervention of officers.
The final between England and Italy on Sunday night was marred by ugly scenes which saw several ticketless fans storm Wembley after breaking through ticket barriers. Videos on social media also showed fans fighting with other supporters and stewards once inside the stadium.
The official capacity for the match was 60,000 in line with COVID-19 guidelines. However, estimates suggest that there were around 200,000 fans in the vicinity of the stadium ahead of kick-off.
The English Football Association (FA) said on Monday that it would carry out a full review and investigation into the events. UEFA, football's European governing body, followed suit on Tuesday and specifically charged the FA with offences relating to invasion of the field of play by its supporters, throwing of objects by its supporters, lighting a firework by its fans and disturbance of the Italian national anthem.
UEFA said that an Ethics and Disciplinary Inspector has been appointed to conduct a disciplinary investigation into events involving supporters which occurred "inside and around the stadium". More information on this matter will be made available in due course.
Sunday's events have led to criticism of the security operation in place at Wembley but the Met Police has denied that it was at fault. In a statement issued yesterday (Wednesday), Deputy Assistant Commissioner Jane Conners reiterated the Met's commitment to identifying the fans responsible for the scenes at Wembley and in central London.
"Ahead of the final, police commanders deployed one of the most significant and comprehensive policing plans the Met has ever committed to a football match of this scale," said Conners. "In Wembley, soon into the day it became clear that a high number of fans were arriving without tickets.
"Police commanders recognised this could result in ticketless fans attempting to get into the stadium, they updated security officials at Wembley of this risk. To support the stewarding efforts, further highly trained public order officers were deployed to Wembley Stadium as a precaution.
"Soon after gates opened, the stewarding and outer security perimeter became overwhelmed and fans began pushing through security checks. I want to praise the quick response by police commanders and those brave officers who confronted these subsequent scenes of disorder and violence."
The statement continued: "I am in no doubt that their swift action prevented any further escalation. Frustratingly, 19 of our officers were injured during the course of Sunday's policing operation when confronting volatile crowds.
"I do not accept that the policing operation failed and I stand by the difficult decisions made by police officers and the Met's public order commanders. Without their immediate intervention, it is possible that this game could have been abandoned.
"The ugly scenes at Wembley on Sunday night will rightly be reviewed by the Football Association and by police. Where lessons can be learnt we will work with partners to ensure that future matches are not disrupted by a group of hooligans who are fuelled on alcohol."
The Met Police said that 51 people were arrested across London as part of its policing operation on Sunday. Twenty-six of those were arrested in Wembley, with 25 arrests made following events in central London. Further arrests are expected in the coming days and weeks.
One of the organisers of the groups of ticketless fans that stormed Wembley told The Guardian earlier this week that hundreds of supporters had shared tips about getting into Wembley via instant messaging platform Telegram.
The fan detailed how he and around 300 others got into Wembley via an entrance for disabled visitors and claimed others bribed stewards to get in. The fan estimated that at least 5,000 entered the stadium without a ticket.
https://www.thestadiumbusiness.com/2021/07/15/met-police-denies-operation-failed-at-wembley/?utm_source=TSB+-+TheStadiumBusiness+NEWS&utm_campaign=4febd4f889-EMAIL_CAMPAIGN_2017_01_04_COPY_01&utm_medium=email&utm_term=0_d71bad5679-4febd4f889-24174101&mc_cid=4febd4f889&mc_eid=c5c7a5da61
Tue, June 15, 2021
A Greenpeace stunt didn't go exactly as planned at Euro 2020. (Photo by Stefan Matzke – sampics/Corbis via Getty Images)
A parachuting protestor, a stadium full of fans and one of the biggest soccer tournaments in the world. What could go wrong?
Thanks to a Euro 2020 game between Germany and France, we now know the answer.
A Greenpeace stunt at Tuesday's match at Allianz Arena resulted in the hospitalization of several spectators after the parachuter — carrying a message "Kick out oil" — got tangled in wires and caused debris to fall on the pitch and stands, according to the BBC.
France coach Didier Deschamps nearly joined them, but reportedly managed to duck out of the way of a falling piece of equipment near the dugout. Here's how the chaos played out:
The protestor was reportedly among those hurt thanks to a hard fall into the pitch.
UEFA was quick to condemn the protest, via the BBC:
"This inconsiderate act – which could have had very serious consequences for a huge number of people attending – caused injuries to several people attending the game who are now in hospital and law authorities will take the necessary action.
"The staging of the match was fortunately not impacted by such a reckless and dangerous action, but several people were injured nonetheless."
Following the interruption, France came out on top 1-0.
https://www.yahoo.com/sports/euro-2020-greenpeace-parachute-stunt-protest-012836124.html
Cindy Boren, Scott Allen 6/1/21
The trend of NBA fans behaving badly continued Monday night when a spectator ran onto the court in what Washington Wizards Coach Scott Brooks called a "barbaric" display of behavior. In lengthy postgame comments, Brooks expressed the frustration and disbelief of players and coaches.
© Toni L. Sandys/The Washington Post Dwight Howard had a close-up view of the incident.Over the past few days, a fan has thrown a water bottle toward Kyrie Irving, who had stepped on Boston's center-court logo after the Nets beat the Celtics; a Knicks fan spat at Trae Young; Jazz fans berated the family of Ja Morant of the Grizzlies; and a 76ers fan dumped popcorn on the head of the Wizards' Russell Westbrook in Philadelphia.
During Monday's Game 4 of the Wizards-76ers series at Capital One Arena, a fan ran onto the court during the third quarter, getting no farther than a spot under the basket. Only the 76ers' Dwight Howard was in the general vicinity, and the fan was quickly tackled by a security guard.
The incidents have not caused any injuries, but Brooks spoke emotionally for nearly five minutes about what happened in some of the first few games in which fans were back in arenas after coronavirus pandemic restrictions were loosened.
"It's actually embarrassing for all those fans who do that. The NBA has great fans. I've played in Philadelphia. They have great fans. They have one knucklehead who decided to throw popcorn. Boston has great fans. They have one knucklehead who decided to throw a water bottle. New York has great fans. I played there. I played in Boston, but I got cut," Brooks told reporters. "… New York has great fans. One knucklehead decided to spit on somebody. We have great fans. One knucklehead tried to come into the arena, and it's unacceptable. It's not good."
Fans' stunts over the past couple of weeks have brought a variety of repercussions, from the arrest of fan Cole Buckley in Boston to immediate ejection to the stripping of season tickets to being permanently banned from the arena.
"Banning them and this and that — what does that mean?" Brooks questioned. "Is there facial recognition that you can't get a ticket on the secondary market and don't shave for a week and wear a hat and still come in? I don't know if there's criminal charges, but they've got to get something on their record, and they've got to get exposed and they have to pay money out of their own pocket."
Westbrook, the target of the popcorn-tossing fan, said he didn't see the incident in Game 4. "This is our job," he said. "This is not a game or some s— you can just do whatever you want to do and run around, and do whatever. This is our job, and we take our job very seriously."
Bradley Beal said there is "no place" for it. "Either you sit there and enjoy the game or just sit at home and watch it on TV. We're fortunate nobody got hurt and the security did its job, did a hell of a job to get him down, get him out of there."
The larger worry is where this could lead, but Beal said he doesn't "feel any less safe because I know no fan would try me individually."
An action by an athlete against a fan would result in a lawsuit, Brooks pointed out, with the fan claiming he "can't see, [he] broke his neck because the popcorn hit him. And all these athletes have to defend themselves and spend hundreds of thousands of dollars and get their name tarnished."
Part of the dynamic between players and fans involves heckling, and Brooks admitted he loves that aspect of the game. "I love it as a coach," he said. "I love it. As a player, I loved it when they heckled me for my two minutes. Russell, he loves to be heckled, but there's crossing the line."
The National Basketball Players Association drew a distinction. "True fans of this game honor and respect the dignity of our players," it said in a statement. "No true fan would seek to harm them or violate their personal space."
Beal and Brooks urged fans who can't control themselves to stay away.
"Your thinking is barbaric," Brooks said. "Stay home. We don't need you. We don't need your dollars. Just stay home. Get away from us. Let the fans that enjoy it, let them be with their families enjoying it and cheer us on, heckle us, scream at us, say we stink and you're 0 for 6 — we love that."
But there's a line that fans have crossed. "These fans, I mean, think about it. It's just been happening and they have no fear," Brooks said. "They have no fear."
Irving compared NBA arenas to "a human zoo." "It's been that way in history in terms of entertainment, performers and sports for a long period of time, just underlying racism and just treating people like they're in a human zoo — throwing stuff at people and saying things," he said. "We're not at the theater. We're not throwing tomatoes and other random stuff at the people performing."
Morant's father, Tee, told ESPN that fans subjected him and his family to racist and vulgar comments. "I know heckling," Tee Morant said. "We were doing that the whole game. But that's different than heckling. That's straight up disrespectful. That was too far out of line. You don't say nothing like that [in] heckling. That's beyond heckling."
Brooks agreed with Irving. "These players play so hard … and you love it when your players are so competitive and they're on an edge. If your players aren't on edge, you have no chance to win. But when you're on an edge and somebody crosses the line, what do you think is going to happen? I mean, I give all of our players, all of them — there's only been 5,000 NBA players in the history of the game and most of them can control themselves and I don't know how. … Russell, I've been with him for eight years and what he has to listen to night in and night out [is] unacceptable. [The fans'] parents, they need to — I mean, my mom, I know my mom. I would've had the nearest branch ripped off and it would've been on my behind if I did something that stupid."
https://www.msn.com/en-us/sports/nba/after-spectator-runs-onto-court-wizards-e2-80-99-coach-urges-misbehaving-nba-fans-to-e2-80-98stay-home-e2-80-99/ar-AAKBcAY
Celtics fan who threw water bottle at Nets star Kyrie Irving charged with felony
The Boston Celtics fan who threw a water bottle at Brooklyn Nets star Kyrie Irving on Sunday night has been identified as Cole Buckley, 21, of Braintree, Massachusetts, according to the Boston Police Department. Buckley faces one count of assault and battery with a dangerous weapon in Boston Municipal Court on Tuesday.
Buckley allegedly threw a bottle of Dasani water in the direction of Irving as the Nets star entered the tunnel to leave the court following a 39-point performance in a 141-126 victory against the Celtics at TD Garden.
According to police records, security located the individual in question, and a police officer on detail at the arena arrested Buckley as the suspect. A witness from TD Garden security told police the water bottle grazed Irving's head. A member of Nets security also witnessed the incident, which was caught on video.
Asked directly on Sunday night if the water bottle hit him, Irving responded in a conference call, "It doesn't matter, honestly. … Anything could've happened with that water bottle being thrown at me, but my brothers were surrounding me, I had people in the crowd, so I'm just trying to get home to my wife and my kids."
TD Garden is cooperating with Boston police and has issued a lifetime ban of Buckley.
"We will support and provide assistance to Boston Police as this incident is under review," TD Garden spokesperson Tricia McCorkle said in a statement issued following the game. "We have zero tolerance for violations of our guest code of conduct, and the guest is subject to a lifetime ban from TD Garden."
After the Nets took a 2-0 lead in their first-round series with the Celtics, Irving publicly expressed reservations about playing in front of Boston fans for the first time since leaving the team in 2019.
"Hopefully we can just keep it strictly basketball," Irving told reporters on a conference call on Tuesday. "There's no belligerence or any racism going on — subtle racism and people yelling s*** from the crowd."
Irving was booed every time he touched the ball and showered with chants ranging from "f*** you Kyrie" and "Kyrie sucks" throughout Games 3 and 4 in Boston. Until the water bottle-throwing incident, Irving took the jeers in stride, even egging on the crowd as he struggled during a loss to the Celtics on Friday. He casually stepped on the head of the leprechaun in the Celtics logo at center court after the Game 4 win.
The alleged assault crossed the line beyond basketball, Irving said.
"It's been that way in history in terms of entertainment and performers in sports for a long period of time," Irving added on Sunday night, "and just underlying racism and treating people like they're in a human zoo. Throwing stuff at people. Saying things. There's a certain point where it gets to be too much. I called it out. I wanted to keep it strictly basketball, and then you just see that people just feel very entitled out here.
"They pay for their tickets — great, I'm grateful that they're coming in to watch a great performance — but we're not at the theater. We're not throwing tomatoes and other random stuff at the people who are performing. It's too much, and it's a reflection on us as a whole when you have fans acting like that."
Police arrested Cole Buckley, 21, for allegedly throwing a water bottle at Brooklyn Nets star Kyrie Irving after Game 4 of their first-round playoff series with the Boston Celtics. (Maddie Malhotra/Getty Images)
https://www.yahoo.com/sports/fan-who-threw-water-bottle-at-kyrie-irving-faces-assault-and-battery-with-a-dangerous-weapon-140151973.html
Actions taken by law enforcement before Trump supporters stormed building backfired
Updated Jan. 8, 2021 1:54 pm ET
U.S. officials said they underestimated the potential for Trump supporters to become a mob who quickly seized the U.S. Capitol for hours, making a series of decisions before the attack that backfired spectacularly.
"We have a lot of lessons to learn from this," said the acting U.S. attorney in Washington, D.C., Michael Sherwin, at a briefing Thursday.
In the days before the Capitol rioting, law-enforcement officials were alerted to a noticeable uptick in online discussions about Wednesday's pro-Trump protests potentially becoming unruly and targeting the building where Congress would count electoral votes.
On Monday, several posters in the chat room boards.4chan.org/pol/ said Trump supporters planned to force an evacuation of the Capitol as lawmakers voted to affirm President-elect Joe Biden's victory in the Electoral College. Multiple posters on a site created last year—TheDonald.win—also discussed storming the Capitol in the days leading up to Wednesday's attack.
https://www.wsj.com/articles/actions-by-police-before-trump-supporters-attacked-capitol-backfired-spectacularly-11610064600
LAPD: 76 arrested after Lakers celebration turns 'confrontational, violent and destructive'
after a celebration of the Los Angeles Lakers championship turned into "confrontational, violent and destructive behavior," the department said." data-reactid="16″>The Los Angeles Police Department arrested 76 people after a celebration of the Los Angeles Lakers championship turned into "confrontational, violent and destructive behavior," the department said.
took to the streets around Staples Center in downtown Los Angeles after the Lakers dominated Game 6 to win their 17th NBA title on Sunday night. Los Angeles Mayor Eric Garcetti repeatedly asked fans not to do so due to COVID-19 safety regulations, but they did anyway and created problems." data-reactid="17″>Lakers fans took to the streets around Staples Center in downtown Los Angeles after the Lakers dominated Game 6 to win their 17th NBA title on Sunday night. Los Angeles Mayor Eric Garcetti repeatedly asked fans not to do so due to COVID-19 safety regulations, but they did anyway and created problems.
LAPD: Buildings damaged, officers injured in Lakers celebration
The LAPD gave an update Monday morning on Twitter saying there were 76 total arrests for vandalism, assault on a police officer and failure to disperse.
Get your Los Angeles Lakers championship gear right here!]" data-reactid="24″>[Yahoo Store: Get your Los Angeles Lakers championship gear right here!]
Two members of the crowd were injured by "less lethal munitions fired by our officers" and were taken to the hospital, according to the LAPD. Eight officers were injured and received medical treatment and more than 30 buildings and establishments were damaged by the crowd, according to the LAPD.
Last night's largely peaceful celebration in Downtown LA of the Lakers championship turned into confrontational, violent & destructive behavior.

Latest details:

76 arrested

30+ buildings damaged

8 officers injured

2 injured by less lethal munitions fired by our officers pic.twitter.com/BZ2nYWHz3c

— LAPD HQ (@LAPDHQ) October 12, 2020
LAPD wrote in part:
"What started out as a largely peaceful celebration of the Los Angeles Lakers NBA championship in downtown Los Angeles, turned into confrontational, violent and destructive behavior late last night. A crowd of more than 1,000 revelers descended into the area around Staples Center after the game. Unruly individuals mixed within the crowd began throwing glass bottles, rocks and other projectiles at officers. That is when an unlawful assembly was declared, and only a limited number of people complied and began to disperse. A larger portion of the group broke off and began vandalizing businesses while continuing to engage in violent behavior, some aimed at responding officers."
https://sports.yahoo.com/nba-finals-lakers-los-angeles-celebrates-police-arrests-violence-destructive-160946085.html
Four risk assessments carried out prior to Manchester Arena attack "failed to adequately assess" the terror threat at the venue, an inquiry has heard.
Security expert Colonel Richard Latham said the risk of a suicide bombing at a venue like the Manchester Arena should have been "crystal clear".
The terror threat level at the time of the 2017 bombing was classed as severe.
The public inquiry, scheduled to last into next spring, is looking at events before, during and after the attack.
Twenty two people were killed and many more injured when Salman Abedi detonated an explosive as fans left the Ariana Grande concert.
The inquiry, which is taking place at Manchester Magistrates' Court, heard how Mr Latham along with Dr David BaMaung have jointly analysed more than 1,000 documents relating to the Manchester Arena attack.
This has accumulated in three reports, which review the adequacy and effectiveness of security at the arena, what lessons ought to be learned and what changes need to be made.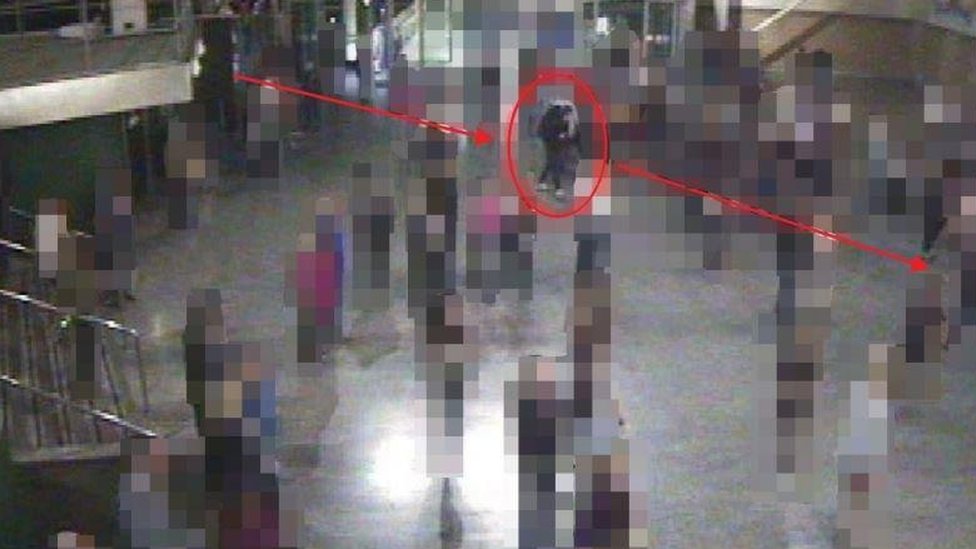 image copyrightGMP
image captionSalman Abedi was caught on CCTV in the City Room just seconds before he blew himself up
The owners of the arena, SMG, had responsibility for safety and security in the City Room, where the bombing happened on the evening of 22 May 2017.
But as the City Room was classed as "public space," this meant arena security staff could interact with people but did not have the power to eject an individual and would need to escalate any suspicions to the police, the inquiry heard.
At the time of the explosion, there was not a single police officer in the City Room.
The inquiry was told if SMG wanted specific policing resources for the arena then they could have paid the police for this service.
The inquiry continues.
https://www.bbc.com/news/uk-england-manchester-54425116
Police kick out entire SMU student section for ignoring social distancing, mask guidelines
The SMU student section experienced an early exit during Saturday's game against Memphis, according to Sam Blum of the Dallas Morning News.
Police reportedly kicked out the entire section early in the first half after a large crowd of students congregated near the end zone. The vast majority of students were not wearing masks, and social distancing guidelines were obviously not being followed.
Police officers reportedly approached the perimeter of the crowd and started instructing students to leave. It's unclear if the police department had made the decision to remove the students or were told to do so by SMU.
A large group of students reportedly remained at the top of the hill next to the end zone, but was eventually gone by the start of the second half.
SMU athletic director Rick Hart had previously pledged to tighten up its social distancing rules after similar behavior was seen during the Mustangs' home opener last week. Hart promised to "significantly" increase the security personnel on site.
Whether you attended in person or watched online, you could see that the majority of fans in the stadium behaved responsibly and were socially-distanced and masked. That said, we will be working to adjust the behavior of a small subsection of fans who did not follow our pledge to protect, which was sent to all ticketholders.
SMU would eventually hold on to win 30-27 over Memphis. Quarterback Shane Buechele was 32-of-46 for 474 passing yards and three touchdowns.
https://www.yahoo.com/sports/smu-student-section-police-masks-social-distancing-memphis-230956670.html