October 04, 2018
Gov. Charlie Baker was on the Gillette Stadium field hours before the Patriots were set to play the Indianapolis Colts on Thursday. He wasn't there to chat up Tom Brady but rather to sign an executive order aimed at improving security for the 68,000 fans who pack Gillette to watch Brady and the Patriots play.
The governor's order created the Massachusetts Large Venue Security Task Force, comprising law enforcement officials and managers of sports arenas and other big facilities. Baker said the group will meet at least four times per year to share information and best practices.
"Our view was by creating a task force — a central opportunity for people to gather on a quarterly or a monthly basis — that just seems like a way to turbocharge the activity here and give people across the venue spectrum a lot more opportunity to engage with one another around what people are doing that seems to be working to keep people safe," Baker said.
TD Garden President Amy Latimer said she already talks about security with her counterparts at Fenway Park and Gillette Stadium.
"But I don't know that we sit in a room and strategize," she said. "We have one-off conversations: 'Oh, have you guys looked at this technology? Oh, have you thought about this?' We're going to take it up to a higher level, be strategic with everybody. That doesn't happen as often as it should, and I think this, now, will be the vehicle."
The task force held its first meeting right after the governor swore in members on the Patriots' home field.
http://www.wbur.org/news/2018/10/04/security-sports-arenas-massachusetts
Cardi B had just stepped offstage after performing for thousands in Central Park when a loud pop pierced the air, sounding like a gunshot and igniting fears of a shooting. Backstage, police commanders scrambled to find out what was going on, and quickly determined no shots had been fired. They rushed to the stage to tell the crowd.
"Remain calm," Assistant Chief Kathleen O'Reilly pleaded into a microphone, saying the sound had been a fence falling over.
But it was too late. Frantic concertgoers ducked and rushed for a limited number of exits. Some people screamed "Shooter!" Barriers and tall fences were toppled. People fell and were trampled. Many fled shoeless. Some police officers even contributed to the pandemonium, telling people to duck and run.
Though no one was seriously injured, the chaos at the Global Citizen Festival on Saturday jolted law enforcement authorities, security experts and policymakers. It has forced an examination of whether the police need new ways of curbing the risk of crowd panic in an era when mass killings have heightened public fear of attacks.
By the next day, police commanders had determined that it had not been a falling barrier that had started the original stampede. It was, instead, a fight between two people near the stage. As concertgoers scattered, they stepped on empty water bottles, causing loud popping sounds.
Once the false reports of a shooting spread, controlling the crowd "was like putting toothpaste back in the tube," Chief James R. Waters, the police counterterrorism commander, who had been on the stage, said in an interview this week.
The events in Central Park unfolded nearly a year to the day after a gunman killed 58 people at an outdoor country music concert in Las Vegas, the worst shooting in modern American history, and one in a series of mass killings at churches, concerts, newsrooms, nightclubs and schools.
Image
Dozens of concertgoers suffered minor injuries in the onrush of people after popping sounds triggered a scare.CreditEvan Agostini/Invision, via Associated Press
"People subjectively feel like they are in greater danger than ever before," said Steven Adelman, the vice president of the Event Safety Alliance, a nonprofit trade association.
Police officials have defended their handling of the panic in Central Park, saying the 100 officers at the concert were able to restore order within a few minutes, in part because the department has studied shooting attacks and conducted drills.
But behind the scenes, officials are grappling with what went wrong and are adopting changes that would make events like the annual music festival safer for participants during an emergency.
Those changes include marking the entrances and exits with color-coded lights, installing runway lighting to highlight emergency routes, displaying urgent messages on screens and placing specialized teams of officers in positions high enough for them to oversee the crowd, Chief O'Reilly said on Tuesday.
"Situational awareness will be what we are messaging out next year," Chief O'Reilly said. "People have to understand where they are."
The police commissioner, James P. O'Neill, said on Wednesday that the police could have moved faster to get a message out to calm the crowd — not just from the stage, but on social media as well. "I think our first hit on social media was about 12 minutes into it," he said. "We can do better there."
Mr. O'Neill said the department would "go back and take a look at what happened and see how we can prevent it in the future."
https://www.nytimes.com/2018/10/03/nyregion/central-park-concert-stampede.html?utm_source=Main+Mailing+List&utm_campaign=d7b9f32d3b-EMAIL_CAMPAIGN_2018_01_18_COPY_01&utm_medium=email&utm_term=0_4eada278ac-d7b9f32d3b-295136453
Non-ticket holders won't be able to stay in the parking lot after the game starts by Kevin Skiver
Aug 28, 2018
The Kansas City Chiefs' new gameday policy might put a damper on a few barbecues. Beginning this season, there will be security sweeps in the Arrowhead Stadium parking lot after kickoff, and fans straggling to get inside will be ask to go in or go home. According to Fox 4 KC, it's an NFL suggestion that the Chiefs are implementing.
"They're really looking at it from a safety and security standpoint," said Chiefs president Mark Donovan, per Fox 4 KC. "We looked at that and said, we don't necessarily agree in KC, that's what we should do. We know our fans pretty well. We know the importance of tailgating. However, there are some real strong points in the safety and security standpoint."
According to Fox 4 KC, this comes in the wake of the death of Kyle Van Winkle, who was sick before kickoff and tried to sleep it off. Unfortunately, Van Winkle entered the wrong car, and the owner of the car found him sleeping in it. The ensuing fight killed Van Winkle, and the Chiefs settled with his wife out of court.
Tailgating, of course, is a time-honored NFL tradition. In no other setting is it socially acceptable to jump onto a burning table. The Chiefs' reluctance to affect tailgaters is understandable, but so is their desire to implement the rule given the lawsuit a year ago.
https://www.cbssports.com/nfl/news/chiefs-new-tailgate-policy-will-force-fans-into-stadium-after-kickoff-or-send-them-home/
David Katz, a white, 24-year-old allegedly angry after a loss during a "Madden NFL 19″ competition in Jacksonville, Florida on Sunday, left the GLHF Game Bar, retrieved two guns from his car, and shot 13 people at the event, killing two and eventually killing himself. Katz was visiting from Baltimore for the e-sports event, and, according to the Associated Press, had previously been hospitalized for mental illness.
USA Today is also reporting that survivors of the shooting have filed a "negligent security" lawsuit, although the law firm that announced the suit has declined to name its clients or the proposed targets of the litigation.
People Over Profits
"Unfortunately, the country has watched this unfold too often in the past," attorney Matt Morgan said. "This is not the time in America for bare-bones security or, even worse, no security at all." Morgan said his firm represents at least one person who was shot during the assault. "The safety of Americans must always come before profits. It must always be people over profits," Morgan said.
The event was organized by video game giant and Madden creator EA Sports. The competition itself took place at GLHF Game Bar, part of a Chicago Pizza restaurant located in the Jacksonville Landing entertainment complex, an outdoor, waterfront mall owned by the city. "It is foreseeable that shootings could occur at this location," Morgan asserted, without confirming which entities could be defendants in a lawsuit. "eSports are big business. This is the type of event that has to have the highest level of security."
Gun Laws and Liability
According John Wester of Tampa's Bureau of Alcohol, Tobacco and Firearms field office, Katz purchased both handguns legally within the last month from a licensed dealer in Baltimore, where Katz lived. Court records show Katz was twice admitted to psychiatric facilities as a juvenile and that he was prescribed anti-psychotic and anti-depressant medications. But Daniel Webster, director of the Johns Hopkins Center for Gun Policy and Research, told USA Today that Katz's hospitalizations as an adolescent apparently did not fall under state or federal firearm disclosure requirements and background checks.
Negligent security lawsuits are based on the legal duty of landowners and property possessors to provide reasonable security measures to protect visitors from foreseeable crimes. An individual injured by a third party — in this case people shot by Katz — can try to hold the owner or tenant of the property where the criminal injury occurred liable for their injuries. Morgan said his firm has continued to get calls from survivors of Sunday's shooting, but declined to name specific clients.
https://blogs.findlaw.com/tarnished_twenty/2018/08/lawsuit-follows-mass-shooting-at-florida-e-sports-event.html?utm_source=feedburner&utm_medium=feed&utm_campaign=Feed%3A+TarnishedTwenty+%28Tarnished+Twenty%29&DCMP=NWL-cons_sportslaw
Liverpool reports ticketing cyberattack to data protection regulator
Liverpool fans have been warned of another potential data breach via the club's ticketing services.
Ahead of the start of the Premier League season later today, the club is writing to a group of supporters who used online and telephone ticketing services in 2012 following unauthorised external access to an employee account. Liverpool has advised the fans to change their passwords.
The club has also reported the incident to the police and Information Commissioner's Office, which regulates data protection in the UK, and launched an internal investigation.
The club last month admitted that some season ticket holder information has been stolen from a club email account. While Liverpool said there is no evidence that any supporter accounts have been accessed, it reset online passwords and has issued guidance to those affected.
Speaking about the new breach data, chief executive Peter Moore said: "We take privacy and the security of the personal information we hold extremely seriously. Unfortunately, we have determined that recently there has been unauthorised access to an LFC staff account.
"Upon discovering the incident, we immediately took steps to ensure that no further unauthorised access would be possible.
"We have no evidence to suggest any fraudulent use of personal information and continue to work closely with experts in this field and monitor for any suspicious activity."
https://www.theticketingbusiness.com/2018/08/10/liverpool-reports-ticketing-cyberattack-data-protection-regulator/?utm_source=TTB+-+TheTicketingBusiness+NEWS&utm_campaign=a3a26253ce-EMAIL_CAMPAIGN_2017_01_04_COPY_01&utm_medium=email&utm_term=0_fc47d2bf36-a3a26253ce-24413317&mc_cid=a3a26253ce&mc_eid=c5c7a5da61
By Joe Lemire / August 9, 2018
Just two days before the PGA Championship, hackers breached the computer servers of the PGA of America, locked officials out of important files for the tournament, and demanded ransom to reinstate access. Golfweek reported the attack and noted that the hackers' message included a Bitcoin wallet number, although did not specify the ransom amount.
A PGA spokesperson declined comment, citing the ongoing nature of the investigation. One source told Golfweek that the golf organization had no intention to meet the demands.
The magazine noted that the affected files included creative materials—banners, logos, and signage—for both the PGA Championship at St. Louis' Bellerive Country Club and the Ryder Cup that begins on Sept. 28 in the Parisian suburbs. The hackers' message read, in part: "Your network has been penetrated. All files on each host in the network have been encrypted with a strong algorythm [sic]."
SportTechie Takeaway
The impact of Russian hackers on the 2016 national elections broadly increased awareness of the need for cybersecurity. Sports had a hacking crisis that same year when confidential information in the World Anti-Doping Agency database was stolen and released. Last month, Fenway Park hosted a panel on the need for venue safety and security that covered the need to protect computer systems. Groups dedicated to sports cybersecurity have also begun emerging, including the Sports ISAO (Information Sharing and Analysis Organizations). In 2015, President Barack Obama issued an executive order directing the Department of Homeland Security to foster the creation and efforts of ISAOs.
https://www.sporttechie.com/hackers-reportedly-breach-pga-servers-demand-bitcoin-ransom/?utm_source=SportTechie+Updates&utm_campaign=8604f713d8-SportTechie_Weekly_News_8_12_2018&utm_medium=email&utm_term=0_5d2e0c085b-8604f713d8-294396349
August 15, 2018 Olivia Perreault
While concertgoers gathered around to see a rap artist at O Marisquiño Festival in Vigo, Spain this past Sunday night, part of the wooden platform collapsed, injuring more than 300 people.
During rapper Rels B's first song on stage, he told the crowd to jump, and suddenly, the wooden platform gave way.
"The floor [of the platform] dropped like a lift. It was a matter of five seconds," Aitana Alonso told a local newspaper. "It broke and we all fell. People fell on me. I had trouble getting out. I was trying to get out and skidded, my foot got stuck, in the water. I got it out. A boy gave me his hand and I got out. I felt paralysed and [then] I left. There was a girl with blood on her head."
According to witnesses, there were scenes of panic as concertgoers tried to scramble off the platform, some falling into the sea. Several emergency teams were at the scene and attended the injured while divers went into the sea to make sure no one was trapped underneath the structure.
"Suddenly everyone disappeared and everyone was trampling on everyone else as they tried to escape," 19-year-old Alicia Ulloa said. "I was with a group of friends when the people beside us fell, as though something had dragged them down. It's a miracle it wasn't worse because the concert had just begun and lots of my friends hadn't arrived yet."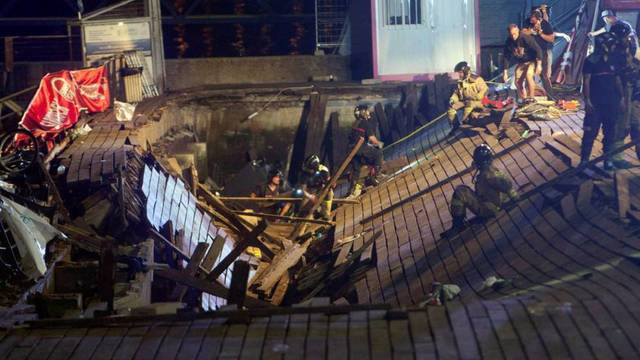 Police confirmed that there were no fatalities, but 300 people were injured including five seriously.
"These are provisional figures, patients are still being evaluated," regional health minister Jesus Vazquez Almuina told a local radio station. "The vast majority are light injuries for bruises. There are five hospitalisations, mainly broken bones and some head injuries."
In a tweet, Rels B wished strength to those injured and urged anyone worried about friends or relatives to contact an emergency information point.
It was unclear whether the platform collapsed because there were too many people on it or if the structure was weak to begin with. However, according to the Spanish publication EsDiario, the president of the PP of Vigo had warned the socialist mayor that the platform consisted of broken wood, presenting a "dangerous situation," yet nothing was done in precaution before the festival.
O Marisquiño is a free, three-day festival that takes place annually in Vigo right on the estuary Ria de Vigo. Each year, it brings in more than 160,000 attendees.
https://www.ticketnews.com/2018/08/hundreds-injured-at-festival-in-spain/?utm_source=Ticket+News+Updates+-+8.15.18&utm_campaign=TicketNews081418&utm_medium=email
John Bacon, USA TODAY Published 11:37 a.m. ET July 17, 2018
A lawsuit filed by MGM Resorts International, owner of the Las Vegas hotel from which Stephen Paddock fatally shot 58 people and wounded hundreds, is drawing outrage from survivors of the deadliest mass shooting in U.S. history.
The suit filed against hundreds of the victims of the rampage Oct. 1 outside the Mandalay Bay hotel claims the entertainment giant has "no liability of any kind."
MGM said in a statement the filing was meant to provide a "timely resolution" for shooting victims who sued or will sue in the aftermath of the attack during the Route 91 Harvest Festival. MGM said litigation filed against it "must be dismissed."
"The unforeseeable events of October 1st affected thousands of people in Las Vegas and throughout North America," MGM Resorts spokeswoman Debra DeShong said in a statement. "From the day of this tragedy, we have focused on the recovery of those impacted by the despicable act of one evil individual."
More: 'There's people shot everywhere!': Las Vegas shooting 911 calls released
More: Documents detail terror, chaos during deadly Las Vegas shooting rampage
Brian Claypool, a survivor of the rampage who represents 75 survivors and victims' family members, called MGM's lawsuit "a stunt" that won't survive a court challenge.
"I am still in therapy once a week, and this is their way of trying to solve the problem," he said. "It's shifting responsibility and minimizing their blatant negligence."
Robert Eglet, whose firm represents hundreds of people in the case, dismissed MGM's claim as "outrageous" and accused the company of trying to intimidate victims. Very few of his clients have filed suit and some never will, he said.
"In my 30 years of practice, this is the most reprehensible behavior I have ever seen a defendant engage in," Eglet said. "They are trying to victimize these people twice."
MGM's lawsuit claims the case must be dealt with in federal court under terms of the post-9/11 Safety Act, which provides incentives for development and deployment of anti-terrorism technologies. The company says the security firm it contracted for the concert, CSC, was approved by the Department of Homeland Security, thus released from liability under the act.
Eglet and Claypool said that release does not extend to the hotel.
"The Safety Act doesn't apply to them, it applies to CSC," Eglet said. "MGM has nothing to do with CSC."
Eglet said there was no reason to file the suit since the issue of jurisdiction is already being argued in court. He said MGM is "judge shopping."
"They are trying to find a judge they like," he said. "All they have done is cause a tremendous amount of stress, pouring gasoline on the fire."
Carl Tobias, a professor at the University of Richmond School of Law in Virginia, said the company may be able to convince a federal judge with its arguments, but that would come at a price.
"Even if MGM is successful, that may not outweigh the adverse publicity for the company that the suit generates," he told USA TODAY.
MGM took a hit on social media.
"This is just OUTRAGEOUS & WRONG," tweeted JoAnn Smith, whose profile says she is a security officer in Las Vegas. Crypto Contrarian tweeted that "being a Las Vegan, I must speak out about this. Can MGM not see how harmful this will be?"
Paddock fired more than 1,000 rounds from a 32nd-floor hotel room overlooking the concert. He was found dead of a self-inflicted gunshot wound in the room.
Numerous lawyers in Las Vegas feature the shooting on their websites, some calling out MGM and the concert promoter for providing inadequate security.
"A gunman bringing more than two dozen firearms into a hotel room, including military-style assault weapons, is almost unthinkable," the Ladah Law Firm says on its website. "There are serious questions about the security procedures at the Mandalay Bay."
The write-up says, "If you so much as take a casino chip off of a table you will no doubt be immediately surrounded by security guards; yet, nothing was done in this case."
Claypool said MGM should spend money on safety consultants, not lawyers developing "desperate arguments" designed to avoid responsibility.
"Fixing security would be the socially responsible thing to do," he said. "But instead they're offending every person on the planet with their moral indignity."
https://www.usatoday.com/story/news/nation/2018/07/17/mgm-resorts-sues-victims-las-vegas-massacre-denies-liability/791511002/
'ABSOLUTE CHAOS'
Eminem fans 'trampled on and left struggling to breathe' after thousands of concert-goers bags 'dumped on floor' after Twickenham gig
Tom Rosher witnessed people being 'trampled on' as others rushed to collect their belongings at Twickenham Stadium, West London
Exclusive
By Aletha Adu
15th July 2018
EMINEM fans were trampled on in chaotic scenes after thousands of bags were "dumped on the floor" for concert-goers to collect after the show.
Fans who flocked to London's Twickenham Stadium on Saturday night said security officials sparked a violent free-for-all with people's belongings after the concert.
A sea of Eminem fans left waiting for at least 90 minutes, after finding their belongings 'dumped on the floor', before chaotic scenes
Tom Rosher, 21, from West London, witnessed people being "trampled on" and "left struggling to breathe" as others rushed to collected their belongings which were left open to theft.
He told Sun Online: "People were being pushed against fences, people were being trampled on, while some were falling over left, right and centre.
"Other people were struggling to breathe, it was absolutely mental. A huge guy used my girlfriend as a leaning post as he forced himself past hundreds to get to his belongings.
"The officials had no clue. They were just standing there like headless chickens."
Eminem performing at Twickenham's Stadium on July 14
Tom said security staff forced him to leave his girlfriend's Michael Kors bag, worth more than £100, in a storage container upon entry, even though it met stadium rules.
He also claimed he saw other concert-goers with huge rucksacks on their back inside the venue.
Tom said: "Who thought it would be a good idea to have six members of staff, monitoring containers which had thousands of people's belongings?
"When fights started breaking out, one official picked up a random Gucci bag and asked whose it was? I saw this randomer think to himself before claiming it.
Twickenham Stadium advised fans to not bring bags, and if they did, it could only be an A5 size
"Anyone with malicious intent, could enter the gig with a £20 bag, and leave with one worth more than £200."
"When I asked [security] what happened one said 'It's not my fault, it's not my fault, I'm new'. Another said 'I'm not paid enough to deal with this'."
Dozens of fans questioned why stadium officials introduced the bag policy if they were not going to follow it.
One said: "Poor form at Twickers last night for Eminem. No consistency with allowed bag sizes and the bag drop off, was a disgraceful mess/free-for-all.
"Pointless putting tickets on bags, if no staff are there to monitor it. Bags could've been easily stolen! #twickenhamstadium #Eminem."
The mum of one Eminem fan said: "My son was forced to miss transport home due to lack of organisation when collecting his bag!! #Twickenham #Eminem #outofpocket this ruined what should have been a fantastic night that he saved for….. what a joke!!"
Stadium officials offered online guidance on what type of bags to bring, which said:"Eminem along with his touring partners and Twickenham Stadium strongly encourages fans to not bring any type of bags to this show.
"Fans however will be able to carry… small clutch bags approximately A5 size with or without a handle or strap.
https://www.thesun.co.uk/news/6785975/eminem-twickenham-stadium-fans-bags-dumped-west-london/
6/17/2018
By: Associated Press
Gunmen opened fire at an all-night arts and music festival early Sunday morning, sending people running over each other in the scramble to safety, authorities said. One suspect was killed and 22 people, including two suspects, were injured.
Of 17 people treated for gunshot wounds, four of them, including a 13-year-old boy, were critically injured but three had been upgraded to stable by evening, leaving only one man believed to be a suspect in critical condition, Mercer County Prosecutor Angelo Onofri.
The shots rang out around 2:45 a.m. Sunday as an estimated 1,000 or more people were attending the Art All Night Trenton festival that showcases local art, music, food and films.
Onofri said numerous fights inside and outside had prompted police to tell organizers that the event needed to be shut down because "there was a report that the mood inside the venue had been changing." Organizers were in the process of doing that when the shooting started, he said.
Authorities believe several neighborhood gangs had a dispute at the venue, and multiple suspects began shooting at each other, with police returning fire, Onofri said.
Tahaij Wells, 33, the suspect who was killed, had recently been released from prison and was on parole since February on homicide-related charges, Onofri said. Amir Armstrong, 23, listed in stable condition, was charged with a weapons offense. It was not immediately known if he had an attorney who could comment.
Multiple weapons were confiscated, including a handgun with an extended capacity magazine containing more ammunition than is allowed under New Jersey law, Onofri said.
On Sunday, crime scene tape surrounded the site of the historic Roebling Wire Works Building that now shares a parking lot with a supermarket, bank and laundry.
Police were also investigating an attempted carjacking that occurred in a nearby alley. Onofri said police were working to determine if it's connected to the shooting.
Gennie Darisme was getting ready to leave the festival when she heard shots and saw people running.
"There were people trampling other people, cars hitting other cars," she said.
When she was walking back to her car after the shots stopped, Darisme said she saw someone bleeding on the ground, in handcuffs.
"People were running to him, trying to see his face, to see if he's a family member or a friend," she said.
Theresa Brown, who has been volunteering at Art All Night for 12 years, said she was leaving her volunteer shift when she heard "pop, pop, pop. I thought it was a car backfiring," she said.
The remainder of the two-day festival has been canceled.
"We're very shocked. We're deeply saddened. Our hearts ache and our eyes are blurry but our dedication and resolve to building a better Trenton through community, creativity and inspiration will never fade. Not tonight. Not ever," festival organizers posted on social media.
The injured were taken to area hospitals, where some had been treated and released.
Trenton Mayor Eric E. Jackson said the violence can't be "discarded as just random violence; this is a public health issue."
https://www.pollstar.com/article/gunfire-erupts-at-new-jersey-arts-festival-22-wounded-135702