The Sox and the Illinois Sports Facilities Authority are planning to extend the protective netting at Guaranteed Rate Field down the lines to the foul poles.
By Daryl Van Schouwen Jun 18, 2019
The White Sox on Tuesday announced plans to extend the protective netting at Guaranteed Rate Field down the lines to the foul poles as soon as possible.
As first reported by the Sun-Times, the Sox said specific details will be announced later but indicated the changes will be made this summer. The Sox will be the first of the 30 major-league teams to extend the netting to the corners of the outfield.
To protect fans from foul balls, every team extended the netting to the end of each dugout before the 2018 season. Going beyond that, however, was left up to each franchise. The Tigers have extended the netting about halfway between the dugouts and foul poles at Comerica Park in Detroit.
Calls for more fan safety increased after a 4-year-old girl was struck by a foul ball off the bat of Cubs outfielder Albert Almora on May 29 at Minute Maid Park in Houston. A woman was bloodied and taken to a hospital after being hit by a foul ball off the bat of Sox rookie Eloy Jimenez on June 10 at Guaranteed Rate Field.
''It keeps people safe; it's a smart move,'' Sox right-hander Lucas Giolito said. ''I hate seeing young kids get hit and having to go to the hospital.''
Players have been calling for more netting for years.
''In today's day and age, you have a lot of young fans, and guys are hitting the ball harder,'' Giolito said. ''I see counterarguments like, 'Don't sit there,' or, 'Just pay attention to the game.'
''Dude, no matter how much you're paying attention to the game, if that thing's coming in 115 miles an hour with tail, no matter if you have a glove this big, it could hit you right in the forehead.''
Said Jimenez: ''When I hit the woman, I was . . . super-sad because I knew I hit it hard and it was straight in the face. That doesn't feel good. That's why [extending the netting is] going to be good.''
https://chicago.suntimes.com/white-sox/2019/6/18/18683945/white-sox-to-extend-protective-netting-at-guaranteed-rate-field-mlb-cubs-albert-almora-jr
A 2-year-old girl who was hit by a foul ball last month at Minute Maid Park suffered significant head injuries, the family attorney said.
Jun 27, 2019
HOUSTON — Should Major League Baseball be looking at expanding protective netting from foul pole to foul pole in all major league ballparks? That's the question many were asking when a 2-year-old girl was injured by a foul ball during a game between the Chicago Cubs and the Houston Astros on May 29.
The 2-year-old girl was sitting on a relatives lap in section 111 during the game when she was hit in the head by a line drive off the bat of Cubs outfielder Albert Almora Jr.
It's estimated that the ball was traveling in excess of 100 miles per hour when it struck the child in the head. Almora, who followed the path of the ball, was immediately overcome with grief and was consoled by teammates and umpires.
On Wednesday, family members speaking through their attorney Richard Mithoff revealed the extent of the child's injuries, which included a fractured skull, subdural bleeding, seizures, and a brain contusion.
A day after the incident, an article in USA Today spotlighted the need for expanding safety netting at baseball parks to help keep fans safe. However, it's not clear when Major League Baseball intends to study expanding protective netting in the name of fan safety.
Two days after the child was injured MBL Commissioner Rob Manfred told the Washington Post that changes could be difficult in some stadiums during the season.
"Look, I think it is important that we continue to focus on fan safety," Manfred said. "If that means that the netting has to go beyond the dugouts, so be it."
There are have been a number of injuries, and even deaths caused by foul balls in major league parks over the last decade.
Dodger Stadium: A woman was rushed to the hospital on June 23 after she was hit in the head by a foul ball. The Dodgers say the plan to extend their protective netting.
Marlins Park: An elderly woman was struck by a foul ball in September 2015 and was slightly injured.
Wrigley Field: A man was hit in the face with a foul ball during a game between the Chicago Cubs and the Pittsburgh Pirates in August 2017, and suffered a broken nose and jaw, and he lost sight in his right eye.
Guaranteed Field: A woman is hit in the head by a foul ball during a White Sox game in June 2019.
Before the start of the 2018 season, all 30 MLB clubs expanded their safety netting in their ballparks, but only around home plate, and not foul pole to foul pole as was suggested in 2007 and 2012 by the Major League Baseball Players Association.
The family of the little girl has not filed a lawsuit against the Houston Astros, but Mithoff said is hoping this sends a message to the Astros front office.
"I know Jim Crane well enough to know that he is a very responsible owner, and I think Jim will do the right thing," Mithoff told KTRK.
https://patch.com/texas/houston/girl-hit-foul-ball-during-astros-game-badly-injured-attorneys
By Emanuella Grinberg, CNN
Updated 12:08 AM ET, Tue June 18, 2019
(CNN)After four people were injured Monday in a shooting during the Toronto Raptors' NBA Championship celebration, Canadian officials urged the public to not let it undermine a mostly peaceful commemoration of a historic win.
"I hope all those injured in today's shooting have a speedy recovery and I'd like to thank the Toronto Police for acting so quickly," Prime Minister Trudeau said on Twitter.
"We won't let this act of violence take away from the spirit of today's parade."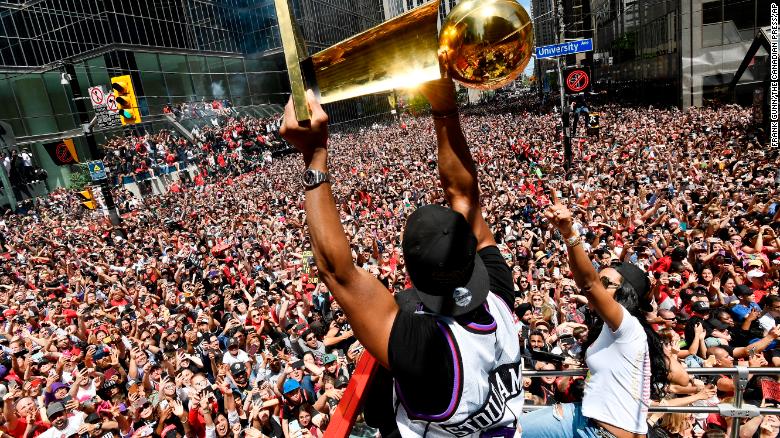 The Toronto Raptors celebrate their first NBA championship with fans Monday.
Trudeau was present for the victory rally in downtown Toronto, where huge crowds had gathered to celebrate the Raptors' victory over the Golden State Warriors
in the NBA finals
.
Four people suffered "non-life threatening" injuries in a shooting near the rally in Nathan Phillips Square, Toronto Police Chief Mark Saunders said. Three people were arrested in two separate incidents connected to the shooting, he said.
Saunders insisted that the incident affected a small group of people during an otherwise jubilant celebration. More than a million people attended the victory rally and "the vast majority didn't even know this happened," he said.
Images on social media showed people running from the scene. Saunders said he could not speak to reports that people were trampled, but he resisted the suggestion that a stampede broke out after shots were fired.
A "small burst of people" were scared, he said.
The shooting brought negative attention to a historic celebration. The Raptors' victory marked not only its first NBA title, but its first time reaching the NBA Finals in its 24-season history.
The celebration began Monday afternoon with a parade featuring open-air double-decker buses carrying the team before arriving at Nathan Phillips Square.
Revelers filled the square to capacity for the rally, which included an appearance from Trudeau.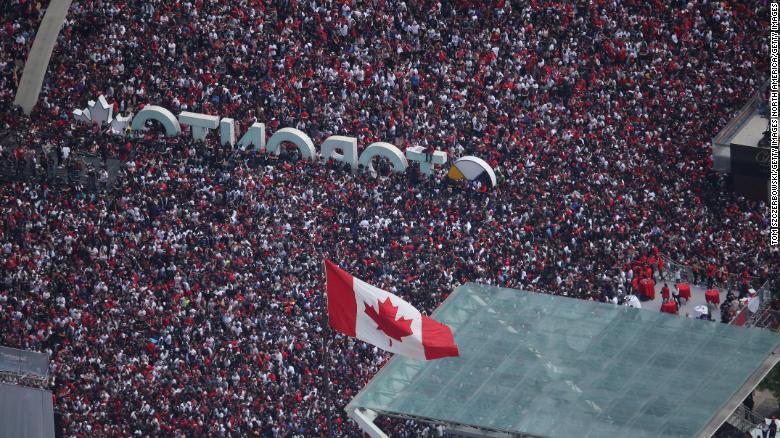 Fans gather at Nathan Phillips Square for the Toronto Raptors' NBA Championship Victory Parade.
The master of ceremonies paused briefly to let the crowd know there was an emergency situation, then resumed the festivities.
"It is disappointing and I'm sure a source of anger for more than just me that anyone would carry a gun and discharge it at what was otherwise a joyous celebration," Mayor John Tory said.
"I hope those responsible will be held to account to the full extent that the law permits," he said. "I want to commend and thank the millions of other people who happily and peacefully celebrated our beloved Toronto Raptors."
During the rally, Tory presented the Key to the City today to the team.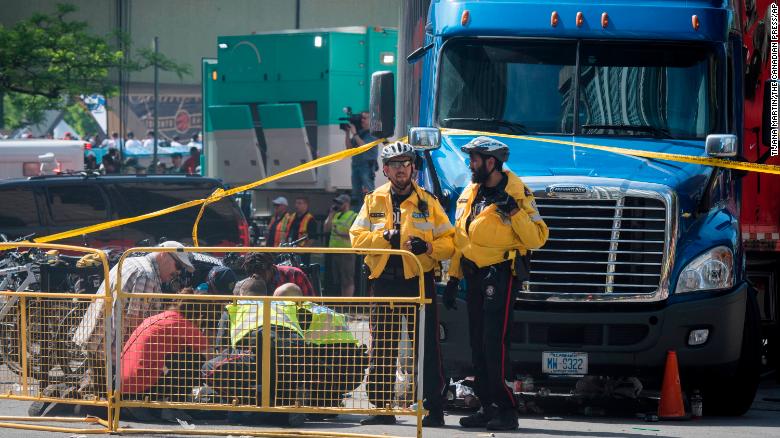 First responders attend to an injured person after shots were fired during the Toronto Raptors NBA championship victory celebration/
He also announced that a stretch of road outside the Scotiabank Arena will receive a ceremonial street dedication as Raptors Way.
"We are so proud of our Toronto Raptors and their championship win. Presenting the entire organization with the City's highest honor is our way of saying thank you on behalf of all Toronto residents," he said in a statement.
"This historic playoff run galvanized and united not only Toronto, but all of Canada, bringing together fans from coast to coast to coast. The victory itself and the events surrounding it will inspire Torontonians, especially young people, for years to come."
https://www.cnn.com/2019/06/17/americas/toronto-raptors-parade-shooting/index.html
Posted by TheStadiumBusiness
on 5th June 2019
Stadiums Queensland has been accused of breaching the privacy of spectators at its venues after admitting to covertly trialing facial recognition technology and sharing information with the police.
The venue-management organisation has not confirmed which of the nine properties it oversees have been part of the trial. The Queensland Government announced last year it would spend Aus$8.3m (€5.3m/US$6.1m/£4.7m) on installing facial recognition technology across its major arenas.
Stadiums Queensland, whose venues include The Gabba and the Suncorp Stadium, said patrons are made aware that CCTV cameras are operated at its properties, and explained why the trials were taking place.
"At this time, such software is only being used to identify patterns and anomalies in crowd behaviour, such as abandoned bags and long queues," a spokesperson for Stadiums Queensland told ABC News.
"As indicated in the terms of entry, ticketholders agree to being filmed by CCTV for the purpose of venue security and public safety upon entry to SQ venues."
However, some claim that those visiting the venues should be made aware that technology is being utilised which can identify them and share their details with the authorities.
"It's certainly something for any large-scale technology implementation like that, that we recommend," Phil Green, Queensland Privacy Commissioner, told ABC News.
"It's simply good practice to identify risks of conducting this sort of surveillance and using facial recognition – those risks are being identified worldwide at the moment.
"It's been demonstrated that bias can creep in, depending on what databases you're using and who's in the database, and the algorithms themselves."
Stadiums Queensland is charged with the management of major sports facilities that are declared under Queensland Government regulation as being venues having the capacity to stage national or international sports events, recreational or entertainment experiences.
As well as The Gabba, one of the world's most famous cricket grounds, and the Brisbane Broncos' Suncorp Stadium, Stadiums Queensland also oversees Queensland Tennis Centre, Brisbane Entertainment Centre and Metricon Stadium.
The organising committee for the Tokyo 2020 Olympic and Paralympic Games last year announced that a facial recognition system will be used at venues to enhance security during the events.
https://www.thestadiumbusiness.com/2019/06/05/stadiums-queensland-admits-facial-recognition-tech-trial/?utm_source=TSB+-+TheStadiumBusiness+NEWS&utm_campaign=fe29350dd0-EMAIL_CAMPAIGN_2017_01_04_COPY_01&utm_medium=email&utm_term=0_d71bad5679-fe29350dd0-24174101&mc_cid=fe29350dd0&mc_eid=c5c7a5da61