Jamie Braidwood
Fri, September 23, 2022 at 10:48 AM·1 min read
The man set his arm on fire while protesting against private jets (AP)
The Laver Cup match between Stefanos Tsitsipas and Diego Schwartzman was briefly interrupted by a climate change protester who set his arm on fire while on court.
The bizarre protest at the O2 Arena in London came as Roger Federer prepared to play the final match of his career and with the 41-year-old sat courtside.
The protester made it past security to get onto the court before staging the protest, setting his right arm on fire.
The incident was not shown by broadcasters, but pictures from courtside showed the man was screaming in agony.
He was then removed from the court by security and was led away from the arena.
The man wore a t-shirt which read: "End UK private jets".
The match resumed after the man was detained and there was a further delay as liquid was cleared from the court.
Earlier this year, a semi-final match at the French Open was interrupted by a protester who chained herself to a net.
https://news.yahoo.com/climate-change-protester-sets-arm-154838391.html
Brandon Gipson and Isaac Cooper were taken into custody after police conducted a traffic stop on a vehicle that was headed to the Everman High School game.
Sept. 20, 2022, 2:11 PM EDT
Police said a tip helped them stop a potential mass shooting at a Texas high school homecoming football game and led to the arrests of two 18-year-old men.
Brandon Gipson and Isaac Cooper were taken into custody Friday after authorities conducted a traffic stop on a vehicle that was headed to the Everman High School game. An AR pistol and a 60-round magazine were found in the vehicle, Everman Emergency Services said on Facebook.
The department said it was clear the suspects were "coming to do harm."
A Tarrant County sheriff's deputy got a tip about a "credible and potentially imminent threat" at the game. The tip included information that a person was on his way to the game "with the intent of utilizing a firearm in which he had obtained earlier" that day, according to Everman Emergency Services.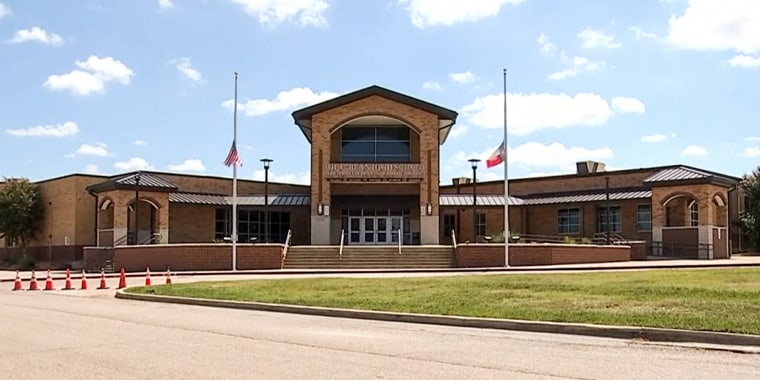 Everman High School in Everman, Texas.KXASA heavy law enforcement presence was already at the game, and more law enforcement was dispatched after the tip came in.
Everman police were given information about a suspect vehicle and saw the car in question near the stadium's entrance. Officers conducted a traffic stop and arrested Gipson, Cooper and another person in the vehicle.
The third person, a 14-year-old boy who hasn't been identified, was released to his parents, according to NBC Dallas-Fort Worth.
Everman Emergency Services said the quick action possibly saved lives.
"Their actions prevented any sort of incident at the game. Following this incident, there was no additional threat to those in attendance of the game," the department said.
About 1,500 people were at the game, Tarrant County Sheriff Bill Waybourn told NBC Dallas-Fort Worth.
https://www.nbcnews.com/news/us-news/potential-shooting-texas-homecoming-football-game-thwarted-police-rece-rcna48554
More than 20 people were injured in the tragedy, which took place at an outdoor rock concert marking Guatemalan Independence Day
By James Hanley on 16 Sep 2022
At least nine people have died, including two 12-year-old children, following a stampede at a rock music festival marking Guatemalan Independence Day.
The tragedy unfolded in the early hours of Thursday (15 September) in the city of Quetzaltenango, about 125 miles west of Guatemala City.
More than 20 people were also injured in the incident, with several requiring hospital treatment for suspected fractures. Thousands of concertgoers were reportedly in attendance at the annual outdoor show in Central America's most populous country. The event, which started on Wednesday afternoon, was reportedly sponsored by a beer maker and held on a field often used for music shows.
"The Guatemalan Red Cross and volunteer firefighters stabilised more than 20 injured people and nine people died at the scene"
"The Guatemalan Red Cross and volunteer firefighters stabilised more than 20 injured people and nine people died at the scene," tweeted the relief agency.
The Associated Press reports that a number of attendees were crushed during rock band Bohemia Suburbana's closing performance, as people tried to leave as others were entering.
"Because of the rain there was a lot of mud," says Nancy Quemé, who attended the concert. "I think because of this the people couldn't move and they fell."
Social media videos show dozens of concertgoers smashing into each other and people piled on top of one another on the ground. CBS News notes that shouts can be heard calling for people to stop pushing and to move to one side so those who fell could be rescued.
The report adds that Quetzaltenango city manager Amilcar Rivas said the event had a permit but organisers did not have a grip on security and crowd control.
https://www.iq-mag.net/2022/09/nine-dead-after-guatemala-music-festival-stampede/?mc_cid=73a870d1e9&mc_eid=cc9fff273e
Not all risk management efforts involve protecting sport fans from physical harm- there is also economic harm.
Security Staff  September 6, 2022
The National Football League (NFL) 's San Francisco 49ers are mailing notification letters confirming a data breach that affects over 20,000 individuals.
The professional football team confirmed that personal information, including names and Social Security numbers, belonging to 20,930 individuals, was accessed and stolen in a ransomware attack that hit its network between February 6 and February 11, 2022. The attack caused a temporary disruption to some of its IT networks. BlackByte, a Ransomware as a Service (RaaS) group, claimed responsibility for the attack, Bleeping Computer reports.
"The 49ers conducted a thorough review of these files to identify the individuals whose information was contained in the files, and additional research to locate and verify the addresses for these individuals," the NFL team stated in the notification letter.
The notification said that the 49ers completed the review on August 9 and discovered that the incident involved the name and Social Security numbers of seven Maine residents.
According to the notification letter, the NFL team notified law enforcement and cooperated to support the investigation. "We are also taking steps to help prevent something like this from occurring again, including additional measures to further enhance our security protocols and continued education and training to our employees," the team said.
https://www.securitymagazine.com/articles/98292-san-francisco-49ers-data-breach-affects-20k-individuals
By MPR News staff
September 04, 2022 04:56 PM
FALCON HEIGHTS, Minn. — At least one shot rang out in the crowd gathered at the Mighty Midway entrance at the Minnesota State Fair on Saturday night – sending fairgoers running for safety and leaving at least one person hurt.
The fair closed and started sending fairgoers home minutes later, more than an hour before its scheduled shutdown.
The incident happened just after 10 p.m., and a video camera streaming from the KSTP broadcast center nearby showed scores of people suddenly turning and running away from the intersection of Liggett Street and Carnes Avenue.
Fair officials said there had been a large contingent of police officers in the area, who heard the gunfire. Officers later found someone with what was described as an injury that was not life-threatening. The person was treated at Regions Hospital in St. Paul.
In a Sunday morning news conference, the State Fair police chief said his department had "requested and received additional law enforcement resources" earlier on Saturday after a large group of young people started causing fights and disturbances at the fair.
He and other state officials believe the additional police presence kept the situation contained.
"I don't know what else could have been done," said Ron Knafla, chief of the Minnesota State Fair Police Department. "For somebody to engage in such a brazen act in a crowd of people, with no regard for the safety or the lives of others, is just disgusting in my opinion."
Earlier, thousands of people filled the fair's streets and concessions on the cool, clear evening. About an hour before the incident occurred law enforcement officers were gathered at the head of the Midway, where many of the fair's rides are located.
The shooting comes despite metal detectors at the fair gates, although some fairgoers have reported only cursory examinations of bags and other belongings after fairgoers set off the magnetometers. Videos posted to social media also show people scaling the fair's perimeter fence on Saturday night, away from the official fair entrances and metal detectors.
Last night's incident follows a 2019 shooting that injured three people and preceded a serious vehicle-pedestrian crash at the fair's main gate on Snelling Avenue on the last day of the State Fair in 2019.
It also follows a surge of gun violence in the Twin Cities, including two recent shooting incidents at the Mall of America.
Gov. Tim Walz and state public safety commissioner John Harrington had joined State Fair Police Chief Ron Knafla just hours before the fair opened to assure fairgoers about the safety of the event.
On Sunday, Walz said despite this high-profile incident, it's believed there have been fewer incidents in general over the course of this year's fair. He said it's a sign that the updated security plans, including added partnerships to call in extra law enforcement personnel when needed, have largely been successful.
https://www.duluthnewstribune.com/news/minnesota/shooting-incident-injures-one-shuts-down-minnesota-state-fair-on-saturday-night