Associated Press
Published: Oct. 25, 2016 at 02:09 p.m.
Updated: Oct. 26, 2016 at 10:07 a.m.
0 Likes  |  0 Comments
DENVER — Authorities say a fan has died after falling 30 to 50 feet at the Denver Broncos' stadium after a game on Monday night.
Stadium Management Co., which operates Sports Authority Field at Mile High, said the fan fell over a stairwell railing.
The medical examiner's office said Tuesday the man was transported to a hospital and pronounced dead.
His name has not been released and a Denver police spokesman did not immediately provide details about the investigation.
The incident occurred near the north end of the stadium following the Broncos' game against the Houston Texans.
The Broncos issued the following statement:
"The Denver Broncos are extremely saddened to learn that Jason Coy, the fan who fell over a stairwell railing at Monday night's game, has passed away. Along with Stadium Management Company, we extend our deepest sympathies and condolences to his family and friends.
"Providing a safe, enjoyable environment for guests at Sports Authority Field at Mile High is the top priority for the Broncos and SMC. We're reviewing this tragic incident and will continue to maintain all necessary safety measures for our fans."
http://www.nfl.com/news/story/0ap3000000727853/article/fan-dies-after-falling-while-leaving-texansbroncos-game
Brent Schrotenboer , USA TODAY Sports 3:37 a.m. EDT October 6, 2016
Perhaps no sporting event in the world is harder to safeguard from terrorism than a giant footrace in a big city.
It's practically impossible. Unlike stadiums with limited access points, major marathons spread themselves out over 26.2-mile courses near skyscrapers and subways. In Chicago and New York this month and next, they also will have at least 35,000 runners watched by more than a million spectators, all subject to countless risks during an event that lasts several hours.
"The security apparatus continues to hold its breath to get through these events," said Jim Reese, a former U.S. Army Delta Force officer and current private security consultant.
Just last month, a pipe bomb exploded in a trash can along the course of a 5K charity race in New Jersey. No one was hurt.
And now comes the next test, on Sunday at the Chicago Marathon, where much has changed to ease the breathing since the Boston Marathon bombings in 2013.
Like other marathons, Chicago has significantly beefed up its defense systems, including a stronger law enforcement presence on the course, more rigorous checkpoints in populous areas and added surveillance cameras that now number more than 22,000 across the city, according to one estimate.
By those measures, marathons are safer than ever. But the threat is never zero in a free society, no matter how much of a police state these cities become on race days. It's all still a guessing game of sorts, rooted in fear. Since Boston, the guessing at marathons now is just better organized, more focused and more expensive, according to officials and experts contacted by USA TODAY Sports.
"There's a whole grid structure that we've built so we can identify any one spot that is a concern," said Peter Ciaccia, race director of the TCS New York City Marathon on Nov. 6. "It's a big, big area. So we've broken this up into lots of little (parts). As you can imagine, it's a big jigsaw puzzle. The way it's put together, we look like Fort Wadsworth."
Backpacks and best practices
Despite the added brains and brawn, a homegrown terrorist with no prior record still might have little trouble infiltrating the event as a spectator or runner. Some might even try buying access to sensitive areas through a private security company staffer, a scenario that was demonstrated in a troubling case at a Chicago Bears game last year.
One big difference now, since Boston, is that such possibilities are discussed and defended against in a more collaborative and organized way through the National Center for Spectator Sports Safety and Security, also known as NCS4.
Medical workers aid injured people at the finish line of the 2013 Boston Marathon following an explosion. (Photo: Charles Krupa, AP)
Before Boston, NCS4 director Lou Marciani primarily concerned himself with the security of sports stadiums. That was the big nightmare scenario for decades — a possible bombing in a crowded stadium, as was depicted in Black Sunday, a movie that came out in 1977.
"I didn't even put two and two together back then," Marciani told USA TODAY Sports. "I was worried about the other stuff (stadiums), and none of us paid really attention to marathons until it happened from that perspective."
After Boston, NCS4 now consults with top marathon officials and has an annual summit with industry leaders to discuss best practices, this year scheduled for Dec. 12-14 in Biloxi, Miss. It also has developed a 162-page "best practices" guide for the marathon and endurance events industry, a checklist to help maximize security, including the encouragement of background checks for security personnel, the use of uniform and plainclothes officers and tightened access at the start and finish line areas.
In Chicago, one of the new initiatives since Boston is that only registered runners showing their race bibs can enter the start and finish line area in Grant Park before the start. All people entering Grant Park must go through a security screening throughout the day, and spectator access to the finish line is limited to ticketed guests only.
Similar measures are in place at other marathons. In 2013, at Boston, the bombers carried bombs in backpacks, which exploded outside a secured area near the finish line, killing three and injuring more than 260. The Boston Marathon now urges spectators to leave backpacks at home. It has enhanced screening near the finish line and added more plainclothes officers who are trained in detecting the behavior of a would-be bomber, said Lt. Mike McCarthy of the Boston Police Department. NCS4 urges marathons to consider banning backpacks, among other items.
"Certainly the implementation of best practices now associated with the start/finish line would have mitigated risk (at Boston in 2013) but could not have guaranteed that event would not have happened," Marciani said.
Eyes in the sky
With marathons, "you just don't ever have enough manpower" to secure them, said Reese, the security consultant at TigerSwan, based in North Carolina.
To make the most of what they have, marathon officials coordinate and plan security operations with local, state and federal authorities, who help with intelligence. Ciaccia said the security, medical and emergency management budget for the New York City Marathon has doubled since Boston to more than $1 million.
"There are a lot more resources that are put into this," said Carey Pinkowski, race director of the Bank of American Chicago Marathon. "For us, federal agencies play a bigger role. They were involved and partners before Boston, but obviously are front and center now."
The marathons also have access to more cameras, which helped identify the Boston bombers in 2013, as well the suspect in the recent bombings in New York and New Jersey.
The scene at the start line of the 2013 Chicago Marathon, the city's first marathon after the Boston Marathon bombings. (Photo: Nam Y. Huh, AP)
About 150 cameras have been added to the Boston portion of the Boston Marathon, McCarthy said. Three years ago, Chicago authorities had access to an estimated 22,000 cameras. That's increased by an unspecified number since.
Authorities "have a network of surveillance cameras that they use and can see the majority of the marathon course," Pinkowski said.
The idea is not to just catch criminals after the crime, but to let them know they're being watched and to locate problem spots or medical emergencies on race day.
"There are not many major cities where you don't have cameras all over the place," Reese said. "They help deter."
The tradeoff for this expansion of surveillance technology is a reduction in privacy. Government is watching more and more. It's a matter of what the public finds acceptable in exchange for safety.
Surveillance cameras "are part of a larger and growing system of electronic surveillance that increasingly turns our private lives into open books," said Adam Schwartz, an attorney with the Electronic Frontier Foundation, which defends civil liberties in the digital age.
Soft spots
In 2013, USA TODAY Sports published an investigation about the private security companies hired to screen bags and search spectators at stadium entrance points. The investigation found the private security industry is loosely regulated and that workers for such companies sometimes have criminal backgrounds and are classified as "event staff" instead of security guards to avoid licensing and training requirements.
Last November, Chicago police arrested two private security company workers at a Bears game, accusing them of conspiring to sell access to the stadium to two undercover officers for $80. Neither of the employees for Monterrey Security had a security guard license, and both had records for drug arrests, according to the Chicago Sun-Times.
"The possibility of a massive tragedy is not lost upon the court," Judge Anthony John Calabrese said at the trial of one of the employees this year. "By giving these wristbands or selling those bands to any individual for profit, it allows any dangerous individual to gain access and puts the citizens of this community at danger, and it has to be viewed in the context of this dangerous world."
The CEO of the company, Juan Gaytan, said those employees didn't need to be licensed because they were not guards but instead were involved in "guest services," the Sun-Times reported. A stadium official said the situation was rectified to prevent this from happening again, and Gaytan said the employees were fired.
The judge still acquitted one of the workers, saying there wasn't enough evidence against him. A warrant was issued earlier this year for the other worker, the one who allegedly sold the cops access.
That same security company is involved in securing the Chicago Marathon. It issued a statement to USA TODAY Sports about the Bears game incident:
"No one got in the stadium that day who wasn't supposed to. No one," the statement said. "Our layers of security were tested that day and they were proven to work. Unfortunately, every company has employees who fail to meet expectations. But, like most companies, Monterrey has far more employees who exceed expectations — including those Monterrey employees who were challenged at the gates, but who never allowed security to be breached."
Though it may have been an isolated incident with no harm done, it demonstrates the soft spots that might be out there for exploitation. NCS4 urges background screening on all staff and contractors. Its goal is to mitigate risk, even though it can't eliminate it completely.
"I can't tell you something can't happen in the New York Marathon this year," said Marciani of the NCS4. "It could be a truck coming off the Brooklyn Bridge or something and crash into 150 spectators. We have to think like that all the time, and they are."
Reese, the former Delta Force officer, said marathons and triathlons "are probably the hardest sporting event to secure in a free society."
They've still come a long way in the three years since Boston. There were no arrests at the past two Boston Marathons, McCarthy said, "Not even for public drinking." Likewise, officials for the New York and Chicago Marathons credited law enforcement for their enhanced safety.
"We have participants from all 50 states that are coming to Chicago and 130 countries," said Pinkowksi of the Chicago Marathon. "It's a special day, but it's like every other day. So attention to detail, vigilance, focus and staying on top of it is what drives the confidence I have, and our organization has, that we'll have a safe and secure event."
http://www.usatoday.com/story/sports/2016/10/05/chicago-marathon-security-boston-bombings/91557970/
Ravens Fan Showing Signs Of Improvement After Stadium Fight With Raiders Fans (UPDATED)
Suspects charged with first- and second-degree assault.
10/04/2016 10:08 am ET |
Updated
1 day ago
Ron Dicker
UPDATE 3:25 p.m. ― The Baltimore Sun reported Tuesday afternoon that Joseph Bauer had showed signs of improvement, giving doctors a thumbs up at their request. "We have been encouraged by some signs we believe indicate he recognizes his wife," his sister told the Sun.
PREVIOUSLY:
Joseph Bauer, a 55-year-old Baltimore Ravens fan, remained "unresponsive" Monday after a stadium fight in Baltimore Sunday with two Oakland Raiders supporters, according to reports. The two suspects, Scott Smith, 30, of Mount Vernon, New York, and Andrew Nappi, 31, of Eastchester, New York, were charged with first- and second-degree assault and released on bond.
Bauer, a former Marine from the Baltimore suburb of Jessup, has been unconscious since the incident during the Ravens-Raiders game at M&T Bank Stadium.
"We're clinging to hope," Susan Bauer, his sister, told the Baltimore Sun. "He's still not responsive and not awake, and we don't know the extent of his brain damage. The doctors said it was consistent with a major stroke."
According to a police report cited by the Sun, Nappi said an argument started, then Bauer threw a bottle at Smith's head and Nappi punched Bauer in the face. Bauer's wife, Sharon, said Smith pushed her husband to the ground where he hit his head.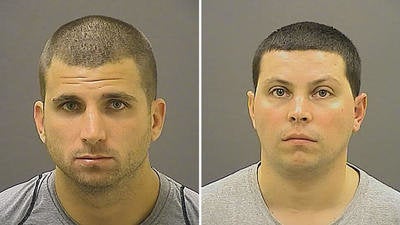 Baltimore Police Department
Scott Smith and Andrew Nappi face first- and second-degree assault charges for a stadium fight that left Joseph Bauer with a severe brain injury.
"Two individuals had become involved in a verbal altercation with our victim," Lt. Jarron Jackson of Baltimore Police Department said in a CBS Baltimore news segment. "That verbal altercation became physical. And at some point, the victim was pushed on the ground where he struck his head."
CBS reported that the encounter may have been the result of a good deed by Bauer. His sister told the station that he let someone cut in line at a concession stand, which sparked an argument with the two suspects.
Ravens coach John Harbaugh offered "sympathies and condolences" to Bauer and his family.
"Here's a man and a family that have been longtime season ticket holders, that know the people here that work in the building, that love the Ravens and have been to countless numbers of games at M&T Bank Stadium without incident," Harbaugh said. "Then all of a sudden, there's an incident where a gentleman is assaulted by somebody. That's just not what we're about. We're a family. It's a family atmosphere."
http://www.huffingtonpost.com/entry/ravens-fan-unreponsive-after-stadium-fight-two-men-charged_us_57f39a0ce4b01b16aafecd74
Graham Watson, 10/5/16
The man wielding a machete in the Colorado athletic department was shot and killed by police, according to a statement by the CU Boulder Police Department.
Colorado coach Mike MacIntyre told the Jim Rome Show his team was on the practice field when the incident occurred.
"We were on the practice field, fortunately," MacIntyre said. "He was in our building. I don't know all the details of it at all. I'm still on lockdown as I talk to you. We're not allowed to go up into our building. I'm on the first floor. We were at practice. It didn't affect any of that. Our young men have just left the room, and we can leave here in a little bit. It's still in the middle of it, so to speak.
"But our protocol and everything worked exactly like it should. All of our athletes, all of our employees are safe. It was really a scary situation, no doubt."
MacIntyre said there were other football employees in the building when the man entered. He said the coaches were made aware of the incident and to stay where they were.
"The first thing that went through my mind when I heard, I was in the middle of practice, they called down and said we couldn't leave practice and just to keep going," MacIntyre said. "All the ambulances and stuff were going by. My first reaction was that I hope everyone's safe in our building. We still had employees in the building, especially the football employees working our recruiting, all the different aspects.
"All of them are OK. I was very concerned and made sure everyone was safe and OK. Everyone is, so that's very good."
Athletic director Rick George announced shortly after the incident that no one other than the machete-wielding man was injured.
** Original Story **
Police shot a man Wednesday who entered the Colorado athletic department offices wielding a machete.
According to reports and tweets from University of Colorado Police, a text came into the police department a little after 9 a.m. alerting authorities to come to the Champions Center, a facility near Folsom Field that houses the Colorado athletic department, including the school's football coaches. By 9:23 a.m., police had cornered the man in a stairwell and, according to the police scanner, he was shot in the lower back and taken into custody.
CU police officials would not reveal the condition of the suspect or whether anyone was injured. It also would not confirm whether shots were fired.
We will update this post when more is known about the condition of those involved.
https://www.yahoo.com/sports/news/man-wielding-machete-shot-after-entering-colorado-athletic-department-163932643.html
Homegrown terrorists to target concerts, sporting events, Homeland Security warns
Top counterterrorism official says Islamic State's ability to strike in U.S. not 'significantly diminished'
The nation's top counterterrorism official testified Tuesday that the world's army of terrorists is "broader, wider and deeper than any point since 9/11," the day al Qaeda attacked America.
Nicholas Rasmussen, who directs the National Counterterrorism Center, said the Islamic State may be losing ground in Iraq and Syria but its ability to strike abroad, including in the U.S., "has not thus far been significantly diminished."
The nation is facing a phase in which people quickly radicalize and launch simple but deadly attacks before authorities have time to detect them, he said.
His testimony to the Senate Homeland Security Committee conflicts with upbeat reports from the White House, which has focused on territorial losses in Syria and Iraq as signs that the Islamic State is being defeated.
"Even ISIL's leaders know they're going to keep losing," President Obama said in August. "In their message to followers, they're increasingly acknowledging that they may lose Mosul and Raqqa, and ISIL is right … they will lose them. And we'll keep hitting them and pushing them back and driving them out until they do."
The Islamic State group, also known as ISIL, ISIS and Daesh, has set up its so-called capital in Raqqa, Syria, and controls Mosul, the second-largest city in Iraq.
http://www.washingtontimes.com/news/2016/sep/27/homegrown-terrorists-target-concerts-sporting-even/?utm_campaign=shareaholic&utm_medium=linkedin&utm_source=socialnetwork