By Aleks Klosok, Joel Kouam and Mitchell McCluskey, CNN
January 25, 2022
Douala, Cameroon (CNN)The president of the Confederation of African Football (CAF) has said a report into a stadium crush in the Cameroonian capital of Yaoundé will center on who closed the gate at the Olembe Stadium.
At least eight people were killed and 38 injured in Monday's incident during the Africa Cup of Nations (AFCON) game between Cameroon and Comoros.
The crush occurred at the south entrance of the stadium as fans attempted to watch the round of 16 match, which ended in a 2-1 victory to Cameroon.
"If [the gate] was open, [spectators] would have walked through and it was closed for inexplicable reasons," CAF president Patrice Motsepe said during a press conference on Tuesday.
"If that gate was open as it was supposed to we wouldn't have had this loss of life."
Motsepe also vowed that such an incident will "never happen again" at an AFCON tournament, adding that "there were things that should have been foreseen."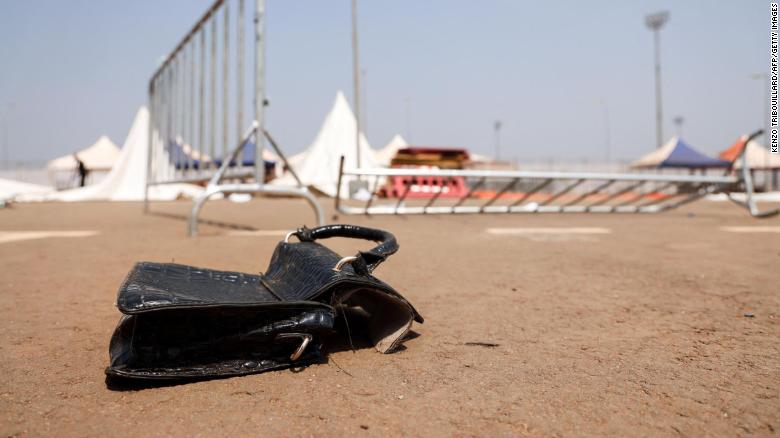 A purse is seen on the ground in the aftermath of Monday's crush.
He said: "There is zero tolerance, absolute zero tolerance in the circumstances which could result in people being injured at a stadium or losing their lives.
It was also confirmed at the press conference that the AFCON quarterfinal due to be played at Olembe Stadium on Sunday will be moved to Ahmadou Ahidjo Stadium in Yaoundé, subject to approval from CAF's executive committee.
A statement from the government of Cameroon said 31 people were lightly injured and seven were seriously injured in the crush.
"Facing this tragedy, the seriousness of which has provoked emotion and consternation, the Head of State [Paul Biya] sends his saddest condolences to the badly hit families, as well as his wishes of a speedy recovery to the injured, to whom he sends the profound compassion of the entire nation," the statement added.
The deceased were taken to the Yaoundé Emergency Centre, while the injured were divided between four health facilities in Yaoundé.
In a statement on Tuesday, FIFA — football's global governing body — sent "deepest condolences to the families and friends of the victims who lost their lives."
It added: "The thoughts and prayers of the global football community are with the victims, the ones who have been injured in this incident, and all the staff of both CAF and the Cameroonian Football Association at this difficult moment."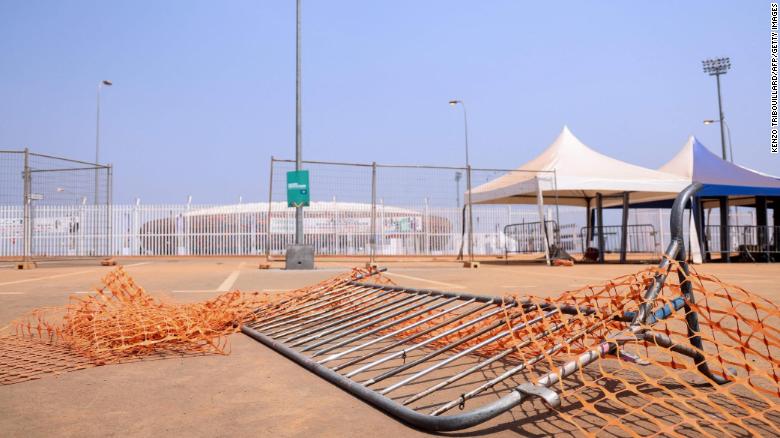 At least eight people were killed in the crush during game between Cameroon and Comoros.
Monday's incident came a day after another tragedy in the capital.
At least 16 people were killed when a fire tore through a nightclub early Sunday, according to a government statement. Another eight people were seriously injured and are in intensive care.
At a news conference held at the scene, the director of the Yaoundé Central Hospital said several people were in critical condition.
Explosions from fireworks caused the ceiling at the Liv Nightclub to catch fire, resulting in two strong explosions that caused panic among those in the venue, according to the statement from the Cameroonian Ministry of Communication.
Biya ordered an in-depth investigation into the incident and sent his condolences to the victims' families, the government statement added.
CNN's Joel Kouam reported from Cameroon and Mitchell McCluskey wrote from Atlanta. CNN's Niamh Kennedy, Nimi Princewill and Schams Elwazer contributed to this report.
https://www.cnn.com/2022/01/24/africa/cameroon-stadium-collapse-intl-afr/index.html
Reuters 1/20/22
MONROVIA, Jan 20 (Reuters) – A stampede at a church gathering in Liberia's capital Monrovia killed 29 people overnight, the deputy information minister told state radio on Thursday.
The incident occurred during an all-night Christian worship event at New Kru Town, a neighbourhood on the outskirts of the capital, Jalawah Tonpo said.
"The doctors said 29 persons died and some are on the critical list," Tonpo said, calling into state radio from a nearby hospital. "This is a sad day for the country."
Exodus Morias, a resident who attended the event, told Reuters the stampede began after a group of armed men rushed the crowd in an attempt to stage a robbery.
People gather outside the hospital after a stampede at a church gathering kills 29 people in Monrovia, Liberia January 20, 2022.
"We saw a group of men with cutlasses and other weapons coming toward the crowd," Morias said. "While running, some people dropped and others fell on the ground and walked over them."
Bands of Liberian street gangs known as Zogos commonly commit robberies with machetes and other small weapons.
Police spokesman Moses Carter declined to comment on what caused the incident. He said an investigation is under way.
President George Weah, who is expected to visit the site on Thursday afternoon, declared a three-day period of national mourning and said the Liberian Red Cross and Disaster Management Agency had been called in to assist victims, his office said.
Reporting by Alphonso Toweh; Writing by Cooper Inveen; Editing by Alison Williams, William Maclean
https://www.reuters.com/world/africa/stampede-church-event-liberian-capital-kills-29-2022-01-20/
Watch: 49ers, Cowboys fans stampede into AT&T Stadium
Jan 16, 2022
Jon Machota of The Athletic posted the following video of fans stampeding into AT&T Stadium when doors opened for the Wild Card playoff game between the San Francisco 49ers and Dallas Cowboys two hours before kickoff.
Create a custom 49ers jersey ⇨
Why bother if fans should have assigned seats?
"For a typical game, the Dallas Cowboys' home at AT&T Stadium can hold around 80,000 people. But for big games, the capacity can expand to 100,000 with its extensive standing room only area," explained Andrew Joseph of For the Win.
Kickoff between the two teams is scheduled for 1:30 p.m. PT (3:30 p.m. CT). The Cowboys are currently 3.5-point favorites.
With the Tampa Bay Buccaneers currently taking care of business against the Philadelphia Eagles, a 49ers win would set up a matchup against the Green Bay Packers next weekend.
https://www.49erswebzone.com/articles/155021-watch-49ers-cowboys-fans-stampede-into-att-stadium/
An event featuring rappers Lil Bean and Zay Bang was being held at Eugene's WOW Hall at the time.
By AP 1/15/22
Six people were shot during a concert at an event hall in Oregon on Friday night (Jan. 14), and the suspected shooter was not yet in custody, police said.
Officers responded to the WOW Hall in Eugene after reports of a shooting around 9:30 p.m., police said in a statement.
"What law enforcement found when they came on scene is what you would exactly expect when six people just got shot," Eugene Police Chief Chris Skinner said at a news conference. "People are just trying to get out of here, their friends are on the ground, they're trying to help."
Six people were taken to the hospital, and at least one of them was in critical condition, Skinner said. The extent of the other injuries was not immediately clear.
The shooting happened in a back parking lot outside the venue, police and WOW Hall leaders said.
A concert featuring Lil Bean and Zay Bang, and other artists, was being held at the hall at the time.
Police said no suspect was in custody. Skinner described "chaos" when officers arrived, and said investigators had not received much information from possible witnesses.
WOW Hall released a statement on its website acknowledging the shooting but declining to speculate on any details.
"We at the WOW Hall want to thank all first responders who came so quickly to ensure everyone's safety and administer first aid," the message said. "We believe all staff and volunteers are safe and accounted for."
Investigators have not determined whether the shooting was random or targeted, the police chief said.
https://www.billboard.com/music/music-news/eugene-oregon-concert-shooting-lil-bean-zay-bang-1235019601/
Eagles fans claim injury, deny that WFT offered medical aid after FedEx Field railing collapse
The Washington Football Team claims that it offered medical assistance to fans who fell over a railing at FedEx Field on Sunday as it collapsed near Philadelphia Eagles quarterback Jalen Hurts.
Some of those fans claim otherwise.
In interviews with the Philadelphia Inquirer and ESPN on Monday, multiple Eagles fans said that they were injured during the incident and that the team did not offer onsite medical attention.
"They didn't ask if anyone was hurt, and they sure as hell didn't ask if anybody needed medical attention," 26-year-old Andrew Collins of Brooklawn, New Jersey told ESPN's Tim McManus. "The only thing the staff said to us was to get the eff off the field."
Another 26-year-old fan named Mike Naimoli from from Sicklerville, New Jersey told ESPN that he was told by staff: "Everybody get the eff off the field." He added: "[they] quickly grabbed us away from Jalen and shooed us up into the stands."
Naimoli and Collins are friends. Both claim injuries to themselves and others. Both told similar stories to the Inquirer.
Several fans fell to the ground after a railing collapsed at FedEx Field. (AP Photo/Alex Brandon)
WFT: Everyone 'was offered onsite medical evaluation'
The Washington Football Team released a statement Sunday evening addressing the incident:
"To our knowledge, everyone involved was offered onsite medical evaluation and left the stadium of their own accord," the statement reads. "We're very glad no one appears to have been seriously injured. The safety of our fans and guests is of the utmost importance and we are looking into what occurred."
Naimoli told ESPN that statement was "completely incorrect."
Report: EMS team responded quickly
A source told ESPN that "Prince George's County EMS personnel were on the scene within five minutes and began treating those who needed medical attention," according to McManus. That source added that staff weren't aware of anyone else needing medical attention in the aftermath of the collapse.
In case you missed it, here's video of the incident:
Here's another angle from the stands:
Fans' medical claims
According to ESPN, Naimoli is the fan wearing the green No. 1 Hurts jersey getting a selfie with the Eagles quarterback. Naimoli told the Inquirer that his initial instinct was to get up and take the selfie. He said that he felt numbness at the time of the collapse.
"Obviously, there was a bunch of people on the barricades," Naimoli told the Inquirer. "That was applying pressure and made my fingers go numb for a second and turn purple instantly."
He claims he later experienced pain in his hand and neck on the drive home and that he spent the night at New Jersey's Inspira Medical Center. He told the Inquirer he didn't suffer broken bones and was advised to get an MRI if the pain persists. He told ESPN he was diagnosed with a cervical strain, a head injury and elbow and knee contusions.
Collins told ESPN that he experienced lower back pain and a pulled groin on Monday. Naimoli's 24-year-old fiancée Morgan French and Collins' 22-year-old girlfriend Marissa Santarlasci claim "substantial leg bruising," according to ESPN.
Was area restricted, properly designated?
A Washington Football Team spokesperson told the Inquirer and ESPN that the section that collapsed was designated for wheelchair access under the Americans with Disabilities Act — that the railing was attached to a wheelchair ramp instead of anchored in concrete and not intended to be load-bearing.
Naimoli told ESPN there was no signage indicating that access was restricted and that they were granted access by a security staffer.
"The security guard at the bottom, we [asked] him, 'Can we go over there?' And he was like, 'Yeah,'" Naimoli said. "If Washington Football Team wants to come out and say that the area is restricted, there was no documentation of that at all.
"The one security guard that was right in front of that area swept us in there and was like, 'OK, go ahead over to the tunnel.'"
NFL spokesman Brian McCarthy addressed the incident in a statement to ESPN:
"We are reviewing the matter with the club to understand what happened and to ensure it does not happen again."
https://www.yahoo.com/sports/eagles-fans-claim-injury-deny-that-wft-offered-medical-aid-after-fed-ex-field-railing-collapse-024643467.html