By Monika Scislowska | AP
January 6
WARSAW, Poland — Prosecutors in northern Poland detained and brought charges Sunday against the man who designed an escape room entertainment site where five teenage girls were killed in a fire.
The man, identified only as Milosz S., was charged with intentionally creating a fire danger and unintentionally causing the deaths of the girls, said prosecutor Ryszard Gasiorowski, adding that the location's heating system was faulty and there was no emergency evacuation route.
A court decision is expected Monday on prosecutors' request that he be held for three months while the case proceeds.
Firefighters in the city of Koszalin found the victims' bodies Friday after they extinguished a fire next to the locked room. Prosecutors say a leaky gas container inside a heater is the most likely cause of the blaze.
Autopsies showed that the girls, who were friends from school, died of carbon monoxide inhalation. A young man employed there was hospitalized with burns. He was to be questioned.
Attorneys for the man charged said he was "deeply distraught" by the deaths and has expressed deep condolences to the families before the prosecutors. They said the 28-year-old denies the charges but because of his distress was not able to answer prosecutors' questions. If convicted, he could face up to eight years in prison.
Earlier Sunday, fire chief Leszek Suski stressed that the escape room at a private house in the city of Koszalin, where the 15-year-old girls died locked inside a room celebrating a birthday, had no emergency evacuation route. They were the first known deaths in an escape room, a form of entertainment that has been growing in Poland over the past five years.
Players in escape room games are locked inside a room or building and must solve puzzles and find clues that lead them to the key that will unlock the door. Regarded as an intellectual challenge, the games are highly popular among teenagers in Poland.
Officials have shut down 13 escape room entertainment sites for safety flaws and the prime minister asked people Sunday to report such lapses to firefighters and police.
Police chief Jaroslaw Szymczyk said other people had previously posted critical remarks online about the safety of that escape room site, but local officials weren't notified.
During a memorial Mass at Koszalin Cathedral, Bishop Edward Dajczak identified the girls by their first names as Julia, Amelia, Gosia, Karolina and Wiktoria.
He later led public prayers in front of the house where they died. People left hundreds of lights, toys and white flowers by the fence.
Prime Minister Mateusz Morawiecki, along with Suski and Szymczyk, spoke after holding a meeting in which they discussed with other officials ways of improving safety at entertainment venues. Morawiecki called the girls' deaths an "immense tragedy."
Since Friday, more than 200 of Poland's 1,100 escape rooms have been checked, revealing a number of safety flaws that needed to be immediately fixed. Authorities ordered the closure of 13 of them.
Copyright 2019 The Associated Press. All rights reserved. This material may not be published, broadcast, rewritten or redistributed.
https://www.washingtonpost.com/entertainment/others-had-criticized-poland-escape-game-site-where-5-died/2019/01/06/395a3682-11a3-11e9-ab79-30cd4f7926f2_story.html?noredirect=on&utm_term=.961881262594
By Paul Vercammen and Jason Hanna, CNN
Updated 6:08 PM ET, Sat January 5, 2019
Torrance, California (CNN)A shooting at a bowling alley late Friday left three men dead and four people wounded in Southern California, and police are trying to find whoever fired the shots, authorities said.
The gunshots at the Gable House Bowl in Torrance went off just before midnight. A fight — first involving young ladies, then men — happened shortly beforehand, sending people running, a witness said.
"Then … maybe a minute and a half later, all of the sudden all we heard was, pop, pop, pop," the witness, Dana Scott, told RMG News. "Bowlers were diving under the benches. The people that were still bowling on the lanes were on the floors, underneath the seats."
"People were looking for their parents, because this is a family league. You've got mothers, fathers, sons, daughters … everybody's friends in that league," she said.
Promoted by Tokyo Metropolitan Government
Working in Tokyo is easier now than it's ever been before
Navigating a foreign business culture can be difficult. See how Tokyo is striving to make it easier.
No arrests were immediately reported after the shooting. City police were "working to identify the suspect(s) involved," they said in a news release.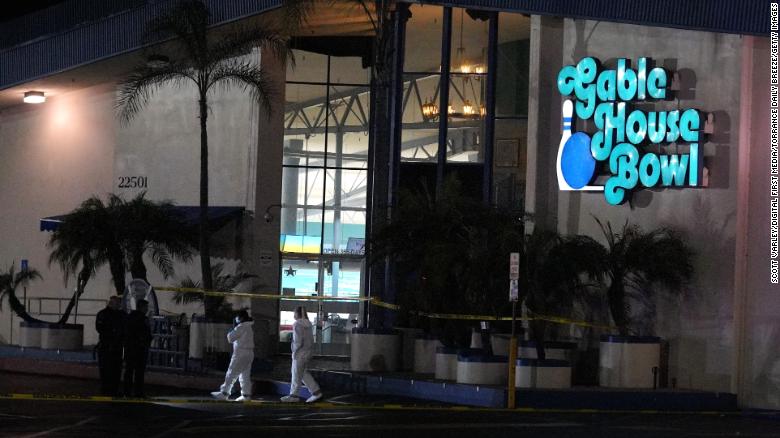 Torrance police officers investigate Friday night's shooting at Gable House Bowl.
By late Saturday morning, relatives of those who were shot were clustered outside the bowling alley, standing behind yellow police tape. Some of them embraced; others looked toward the building's rear, where a coroner's van pulled out.
Keithnisha More, one of those standing outside Saturday, said her brother-in-law was one of those who died and that he leaves behind a son.
"How do you explain to a 5-year-old boy that his father is dead?" More said. "How does my sister-in-law tell this little boy that daddy is gone? Just gone."
The names of the dead and wounded weren't immediately released.
Wes Hamad told CNN affiliates
KTLA
and
KABC
that he was in the bowling alley with his 13-year-old niece and a cousin when they saw a "huge fight" break out. The fight lasted around five minutes and blocked the entrance of the bowling alley, he said.
Hamad told affiliates the scene devolved into "complete chaos."
"I grabbed my niece and started running," he said. "As we were running, we heard 15 shots."
Hamad told the affiliates he saw a woman crying over a man who had been shot in the head and neck multiple times.
A man who says he was in a karaoke area of the building when the shooting happened described a scene of panic.
"People started to run inside the karaoke (area), shouting, 'Gunshot, gunshot, gunshot,'" the man, identified on Facebook as D Ryon Thomas, says in a video posted to the social network.
Staff ushered people into an area in the back of the building, he said.
Police ask public for video
Detectives are going to examine surveillance video recorded inside the building, Torrance police Sgt. Ron Harris said.
"We're also asking anyone in the public who might have seen anything, or (recorded) any cell phone video or other video, to come forward and help in this investigation," Harris said.
Torrance police officers saw multiple people with gunshot wounds when they arrived, and they started lifesaving measures, including CPR and using a defibrillator, police said in a news release.
Shooting at bowling alley
Video from RMG News showed numerous firefighters or other first responders tending to people outside.
The Gable House Bowl is open until 3 a.m. on Saturdays. The complex also offers laser tag and a bar, its website says.
Torrance is about 20 miles from Los Angeles.
CNN's Paul Vercammen reported from Torrance, and CNN's Jason Hanna wrote in Atlanta. CNN's Carma Hassan, Artemis Moshtaghian and Hollie Silverman contributed to this report.
Associated Press, December 26, 2018
MILAN – An Inter Milan fan died following clashes with Napoli supporters outside San Siro Stadium ahead of a Serie A game on Wednesday, which was also marred by racist chants.
Milan police chief Marcello Cardona said Thursday that investigators believe the 35-year-old fan, Daniele Belardinelli, may have been fatally struck by a van or SUV during the clashes.
Four Napoli fans were injured and at least three people arrested.
"You can't die from going to the stadium to see a soccer match," Interior Minister Matteo Salvini said.
Salvini added that he would gather club and fan representatives from all Serie A and B teams for a meeting to make sure "football returns to being a moment of fun and not violence. We'll see if we can do what others weren't able to."
Cardona said he will request that Inter fans be banned from traveling to away games for the rest of the season and that the northern end of the San Siro, where Inter's "ultra" fans are based, be closed until March 31.
Inter won Wednesday's match 1-0.
The game was also marred by racist chants which targeted Napoli defender Kalidou Koulibaly.
The Senegal international, who had monkey noises directed at him throughout the match, received two yellow cards in quick succession, the second for sarcastically applauding the referee after being shown the first.
After the game, Napoli coach Carlo Ancelotti threatened to lead his team off the field the next time one of his players was subjected to continued racist abuse. Ancelotti asked several times for the match against Inter to be halted, and announcements warning fans this would happen were made but no further action was taken.
It was the first time Serie A matches took place on Dec. 26 in nearly 50 years — since 1971.
Italian football federation president Gabriele Gravina said the incidents that occurred inside and outside the stadium were "no longer tolerable" and that he intends to simplify the rules for suspending matches.
It's not the first time that clashes between rival fans have led to deaths in Italy.
Napoli supporter Ciro Esposito died 50 days after he was shot by a Roma supporter before the 2014 Italian Cup final.
That incident came before a match that Roma was not even involved in — although Napoli's 3-1 win over Fiorentina was held in Rome.
Also, police officer Filippo Raciti was killed during riots following a Sicilian derby between Catania and Palermo in 2007.
https://www.foxnews.com/world/inter-milan-fan-dies-after-clashes-with-napoli-supporters
ByDan Schneier Dec 29, 2018
We take a break from New York Giants coverage of the 2018 regular season, the future for franchise icon Eli Manning, Odell Beckham Jr.'s troublesome quad injury, and Saquon Barkley's record-breaking rookie season to provide an update on a story we covered back in 2017. When the Giants played the San Francisco 49ers two seasons ago during a year where the franchise would just hours later fire their general manager and head coach, it was two ornery fans who made headlines.
Luckily for these two fans, who also happened to be brothers, their story was buried the following week as the Giants focus shifted to the departures of ex-head coach Ben McAdoo and ex-general manager Jerry Reese and who would replace them. The two brothers, Kyle and Patrick Flynn, played the role of away team fans who got a little too excited rooting for the Giants and against the home team 49ers (and their fans). Kyle and Patrick were removed from the 2017 Giants-49ers game by force as the security guards on duty deemed them to not be fit to remain after receiving complaints of them belligerently criticizing the team while causing a scene.
The scene got ugly fast. As the on-duty security guards tried to remove Kyle from the stadium, he allegedly fell over the guard railing where he was reportedly both tased and choked by officers on the scene. According to responding officers, Kyle was warned to stop using vulgarities in front of other fans, including when he continuously flipped off Giants players on the sidelines, and when they refused to, the action was taken.
Now, more than a full year later, Kyle and Patrick are suing. The Patrick brothers have filed a lawsuit claiming they had their First Amendment rights violated and that the stadium security and officers used excessive force in removing them.
The Post has pulled directly from the suit:
The suit states that the incident occurred on Nov. 12, 2017, at a game between Big Blue and the Niners, won by San Francisco, 31-21. The Flynns, who were seated close to the field, reportedly shouted "You [expletive] suck" and flipped off members of the Giants, who were losing the game.
They reportedly complied with an order from a Santa Clara police officer named Nicholas Cusimano to cease yelling profanities, but the Flynns were ejected after repeating those offenses later in the game.
According to the lawsuit, Kyle Flynn had to be forcibly removed from his seat, alleging he was grabbed and choked by officers and was "left in [a] restraint device" known as a WRAP "for at least 30 to 40 minutes."
Kyle Patrick was arrested and charged with resisting arrest before later dropping all charges and dismissing the case.
https://247sports.com/nfl/new-york-giants/Article/New-York-Giants-fans-sue-for-the-right-to-heckle-use-vulgarities-126896598/