December 10, 2018 Olivia Perreault
During a concert in Italy over the weekend, a spray was released into the air, causing a stampede to break out, killing six fans and injuring over 50.
The concert, led by Italian rapper Sfera Ebbasta, took place Saturday night at the Blue Lantern disco in Corinaldo, Italy, near Ancona on the Adriatic coast. According to the Associated Press, survivors said an irritant spray was released into the air around 1 a.m., which led the crowd to panic. Teenagers began to rush out a door and toward a low wall near an exit. However, the barrier gave way and people began to fall and trip over one another.
TV RaiNews24 reported that bodies of the trampled victims were found near a low wall and most had their skulls crushed during the incident. Three girls and two boys – ranging from ages 14 to 16 – were killed, along with a 39-year-old mother who had brought her daughter to the show, Col. Cristian Carrozza, commander of the Ancona province Carabinieri paramilitary police, said.
The injuries ranged from arm and leg ailments to cranial and chest traumas, doctors at Ancona's main hospital said. An 18-year-old survivor said that the irritant spray left herself and others unable to breathe, which caused some survivors to leave the venue with burns.
"I'm deeply saddened by what happened," rapper Ebbasta said in an Instagram post. "I don't want to pass judgment on who is responsible, but I would just like to ask everyone to stop and think how dangerous and stupid it can be to use pepper spray in a nightclub."
While the Blue Lantern was only supposed to hold about 870 people, authorities said around 1,400 tickets were sold – far too many for the venue. The disco has three rooms, but only one was held for the concert, which only holds 469 people.
Italian President Sergio Mattarella demanded a full investigation, noting that "citizens have the right to safety wherever they are, in workplaces as well as places of entertainment." At this time, the fire commander said it was too early to know if any safety violations at the site played a role in the tragedy. Premier Giuseppe Conte added that the event was "way overcrowded and alcohol abounded."
"The government must ask itself what to [do] so that such tragedies must never happen again," Conte said.
https://www.ticketnews.com/2018/12/concert-stampede-in-italy-leaves-6-dead-more-than-50-injured/?utm_source=Ticket+News+Updates+12.11.18&utm_campaign=TicketNews121118&utm_medium=email
From Russ- thanks
I recently heard a story where a female got a loaded handgun through security screening because she placed the gun in her underwear (front side) and then told the wanders that her piercings were setting it off. The wander didn't want to go further in the screening process, so he let her in.
This illustrates the importance of making sure that every patron is cleared.
What should have happened here is that when the screener could not clear the alarm they should have called a supervisor. If the supervisor could not clear the alarm then it should have been elevated to law enforcement.
Bottom line is no person who is not fully cleared should be allowed into a building.
Russ Simons
Chief Listening Officer
Managing Partner
Venue Solutions Group
7105 Peach Court
Suite 108
Brentwood TN 37027
russ.simons@venuesolutionsgroup.com
by Andy Berg
November 2018
The $1 million lawsuit filed this week by a Cowboys fan who was severely beaten at a game two years ago is yet another reason professional football stadium operators are trying their best to get fan violence under control.
According to the Dallas ABC affiliate, Michael Kennedy and his wife M'Kale are suing the Cowboys organization for negligence. Kennedy alleges that he and his wife decided to leave their seats during an Oct. 30, 2016, game against the Philadelphia Eagles because of unruly and belligerent fans who were kicking their seats and spilling beer on them.
After alerting the aisle attendant of the fans' behavior, Kennedy says he was attacked. The lawsuit describes a bloody beating wherein Kennedy was kicked, punched and stomped on.
Stadium security allegedly told Kennedy that they tried to call for help but their radios weren't working. The lawsuit alleges that the Cowboy's organzation "failed to take reasonable safety measures" that could've prevented the attack, including functioning radios, and failed to protect its fans."
It's the kind of incident that can be exacerbated by rival matchups like the one Levi's Stadium in Santa Clara, Calif., is set to host this weekend between the San Francisco 49ers and the Oakland Raiders. Violent clashes between fans erupted in the parking lot of Oakland-Alameda Coliseum the last time the two teams faced off in December 2014. Prior to that, two men were shot in the parking lot of Candlestick Park when the two teams met in 2011.
According to The Mercury News, officials are planning a number of extra security measures for this weekend, including boosting the number of undercover officers in the stands who will sport jerseys of both teams.
"The history of games between these two teams is known to us," Santa Clara police Capt. Wahid Kazem said, acknowledging previous violent clashes among fans. "This will be quite different than any other football game we've hosted this year."
Levi's Stadium is also adding temporary holding cells, as well an additional 800 security cameras. The stadium will also be clamping down on any post-Halloween spillover, noting that they will not allow any masks into the event.
Kazem said that police will exercise their discretion to end alcohol sales inside the stadium earlier than the standard end-of-third-quarter cutoff if they find themselves responding to an unusual amount of confrontations in the stands or concourses.
"We recognize the fact that this is a highly charged game and rivalry, and people can get overzealous," said Jim Mercurio, Levi's general manger and the team's vice president of stadium operations. "For the most part, if people want to come down here and try to misbehave, they're going to find themselves met with resistance. If you're coming to the game to enjoy a nice rivalry and root for your team, you'll have a great time."
The increased security comes as the victim of a parking lot assault at Levi's Stadium earlier this month is still in critical condition at a local hospital.
David Aguilera Gonzales, 34, was charged with assault by means of force causing great bodily harm after he punched a man several times following the 49ers game against the Arizona Cardinals. Gonzales is free on $75,000 bail and is scheduled to return to court Dec. 13.
https://www.athleticbusiness.com/safety-security/pro-football-stadiums-aim-to-stem-fan-violence.html?utm_source=Main+Mailing+List&utm_campaign=7176e76936-EMAIL_CAMPAIGN_2018_01_18_COPY_01&utm_medium=email&utm_term=0_4eada278ac-7176e76936-295136453
Fan animosity has reportedly turned into violence at a Champions League match in Greece's Olympic Stadium. AEK Athens FC hosted Dutch club AFC Ajax on Tuesday night, and fans have been spotted throwing what appear to be fireworks, flares, and Molotov cocktails into the stands.
According to multiple outlets, AEK Athens fans were responsible for throwing things into the Ajax fan section, but no arrests have been reported." data-reactid="29″>No injuries have been reported, but photos show fans bleeding from injuries in the stands, or possibly from clashes with Greek riot police. According to multiple outlets, AEK Athens fans were responsible for throwing things into the Ajax fan section, but no arrests have been reported.
Some of these incidents reportedly occurred prior to kickoff, with fans fighting with riot police. The riot police were able to calm the crowd so the game could get underway on time, but there were also reports of similar incidents taking place during the second half of the game.
Ajax won the match 2-0.
https://sports.yahoo.com/fans-reportedly-lob-molotov-cocktails-fireworks-stands-aek-jax-match-200957723.html
By – Associated Press – Friday, November 23, 2018
PITTSBURGH (AP) – Authorities say a man armed with a BB gun started firing shots into a crowd outside an entertainment venue in Pittsburgh, but no injuries were reported.
The shooting at the Benedum Center for the Performing Arts occurred around 7 p.m. Wednesday, shortly before a performance of "Fiddler on the Roof."
Witnesses say 29-year-old city resident Andre Freeman Jr., who was dressed all in black, began waving a BB gun near the theater entrance and soon started firing at the crowd gathered on the sidewalk. But the site's chief security officer soon tackled Freeman and held him until police arrived.
A motive for the shooting wasn't immediately known.
Freeman faces numerous counts, including risking a catastrophe and discharging a firearm or airgun. It's not known if he's retained an attorney.
https://www.washingtontimes.com/news/2018/nov/23/man-armed-with-bb-gun-shoots-at-theater-crowd-no-i/?utm_source=RSS_Feed&utm_medium=RSS&utm_source=Main+Mailing+List&utm_campaign=56b6b674a3-EMAIL_CAMPAIGN_2018_01_18_COPY_01&utm_medium=email&utm_term=0_4eada278ac-56b6b674a3-295136453
TORONTO — One person has life-threatening injuries after a stabbing at a Pusha T concert in Toronto.
Toronto Police Constable David Hopkinson said Wednesday three others were treated at a hospital for minor injuries at the Danforth Music Hall late Tuesday. Hopkinson said the patient who was stabbed remains in critical condition.
Video on social media shows drinks being hurled onstage toward Pusha T and fights breaking out as some people charge the stage.
Hopkinson said someone rushed the stage and several people were injured in resulting melees, but it's unclear whether the stabbing victim was wounded inside or outside the venue. Police didn't find out someone was stabbed until they noticed someone with serious stab wounds at a local hospital.
https://www.nytimes.com/aponline/2018/11/21/world/ap-cn-canada-rap-concert-fight.html?utm_source=Main+Mailing+List&utm_campaign=56b6b674a3-EMAIL_CAMPAIGN_2018_01_18_COPY_01&utm_medium=email&utm_term=0_4eada278ac-56b6b674a3-295136453
11/19/2018
A 57-year-old convicted felon is facing weapon charges after he allegedly brought a loaded gun to Sunday night's Chicago Bears game against the Minnesota Vikings.
Security at Soldier Field was alerted about the weapon shortly before 7:30 p.m. when Levi Flemister walked through a metal detector at the stadium, Cook County prosecutors said.
Chicago police were called after Flemister handed over the .38-caliber revolver loaded with two live rounds.
Flemister was charged with unlawful use of a weapon and could also face a charge of being an armed habitual criminal, prosecutors said at a bond hearing Monday at the Leighton Criminal Courthouse.
An assistant public defender said Flemister had taken someone else's coat and did not realize the gun was in the pocket.  Flemister likely would not have tried to walk through security if he was attempting to sneak the gun inside, the defense attorney said.
Judge John Fitzgerald Lyke questioned how Flemister did not feel the weight on the gun in his pocket when he put the coat on.
The assistant public defender responded by saying that the gun was a lightweight "derringer-style" revolver with only two rounds.
Flemister, a life-long resident of Cook County, is an honorably discharged Army veteran, the attorney added.
Prosecutors said Flemister is not allowed to possess the weapon because of his previous felony convictions for armed robbery and vehicular hijacking.
Those convictions were more than 15 years old, Flemister's assistant public defender noted.
Lyke said he was particularly concerned about Flemister's criminal history in light of the charge.
"What's more disturbing to me is his background," Lyke said in considering bail.
Lyke ultimately denied Flemister bail, but said his ruling could be reconsidered at the next hearing.
https://chicago.suntimes.com/news/gun-solider-field-security-flemister-chicago-bears-minnesota-vikings-sunday-night-football/?utm_source=Main+Mailing+List&utm_campaign=56b6b674a3-EMAIL_CAMPAIGN_2018_01_18_COPY_01&utm_medium=email&utm_term=0_4eada278ac-56b6b674a3-295136453
By
Andrew Blake
– The Washington Times – Saturday, November 24, 2018
British officials investigating the suicide bombing that killed 22 people attending an Ariana Grande concert at Manchester Arena last year have found multiple failures on the part of U.K. intelligence that could have potentially prevented the deadly terrorist attack from happening.
The U.K. Parliament's Intelligence and Security Committee concluded in a report published Thursday that the MI5 security agency was aware of the suspected suicide bomber, Salman Abedi, for several years leading up to the May 2017 attack.
Abedi, 22, initially came to MI5's attention in late 2010 over his ties to another person of interest, and he remained on the agency's radar as recently as two months before the attack, the committee's investigation uncovered.
"What we can say is that there were a number of failures in the handling of Salman Abedi's case and while it is impossible to say whether these would have prevented the devastating attack, we have concluded that, as a result of the failings, potential opportunities to prevent it were missed," said Dominic Grieve, the committee's chairman.
"MI5 have since admitted that given the information they had on Abedi, they should have done so, and they have now revisited their policies in this respect," said Mr. Grieve, a Conservative representing Beaconsfield in the U.K. House of  Commons.
The British-born son of Libyan parents, officials alleged that Abedi detonated a homemade bomb in the foyer of Manchester Arena during the pop concert on May 22, 2017, killing nearly two-dozen people including himself and injuring over 100 others. His younger brother, Hashem, was arrested shortly afterwards in connection with the attack and is being held in Libya pending extradition.
Intelligence officials formally investigated Abedi briefly in 2014, and he was considered a closed "subject of interest" for the three years preceding the attack, the committee's report revealed.
He remained on MI5's radar in the interim, drawing attention for his frequent travel to Libya, his ties to a known extremist under investigation and for visiting an incarcerated "extremist contact" in prison, according to the report.
"An internal MI5 process in March 2017 had raised SALMAN's name for potential further investigations; however, final decisions on this had not taken place by the time SALMAN launched his attack," the committee's report revealed.
Both brothers traveled to Libya the following month, while only one returned and ultimately conducted the attack, according to authorities.
"Following the attacks, the government, police and MI5 undertook a series of rigorous reviews to ensure we are all doing everything we can to tackle the evolving threat of terrorism," said British Home Secretary Sajid Javid.
Hashem Abedi could be extradited back to the U.K. to face charges within a matter of weeks, Libyan official Fayez al-Sarraj said earlier this month.
https://www.washingtontimes.com/news/2018/nov/24/british-intel-faulted-ignoring-red-flags-prior-man/?utm_source=Main+Mailing+List&utm_campaign=56b6b674a3-EMAIL_CAMPAIGN_2018_01_18_COPY_01&utm_medium=email&utm_term=0_4eada278ac-56b6b674a3-295136453
Author: Phillip Kish
Published: 3:04 PM EDT October 25, 2018
MARIETTA, Ga. — A man found dead inside of a walk-in cooler at SunTrust Park died from his own beer equipment, according to autopsy results released by officials on Thursday.
On the afternoon of June 26, workers found 48-year-old Marvin Todd Keeling inside the beer cooler at the ballpark.
According to information released by Cobb County officials on Thursday, autopsy results indicated that Keeling died of "asphyxia due to carbon dioxide exposure."
Investigators found images on Keeling's cell phone that indicated he went into the cooler to work on the valve system.
Officials and family previously told 11Alive that Keeling was working to install a new patented beer tap — one he invented that dispensed beer faster and with less foam – at the ballpark before he died.
Carbon dioxide is used to provide carbonation in beer tap systems, Cobb officials said.
Investigators couldn't determine when Keeling went into the cooler or how long the cooler had been closed before he entered.
Cobb County firefighters found that the concentration of carbon dioxide increased quickly after they turned on Keeling's equipment.
Investigators also found that the door handle to the cooler malfunctioned, which might have prevented a quick escape, Cobb officials said. Investigators said there was no evidence Keeling tried to use that door, or that he used the cell phone he had with him.
According to the report, Keeling likely became "so disoriented he was unable to form and act on logical thought processes."
The autopsy ruled the death an accident, and no charges will be filed, according to Cobb County Police.
Keeling had installed the device at two other Major League Baseball parks before his death, according to his family.
https://www.11alive.com/article/news/local/autopsy-man-found-dead-in-suntrust-park-cooler-likely-killed-by-beer-equipment/85-608073261
Angela Giuffrida in Rome
Tue 23 Oct 2018 18.28 EDT First published on Tue 23 Oct 2018 15.35 EDT
Authorities in Rome have launched two investigations after 24 fans of the CSKA Moscow football team were injured when a crowded escalator suddenly sped up then collapsed, hurling people down the staircase.
One of the fans, who was in the Italian capital for his team's Champions League game against AS Roma, had his foot amputated in the incident at Repubblica station on Tuesday evening in what one witness described as "a scene from an apocalypse".
Firefighters worked for around an hour to remove fans trapped between the metal plates of the escalator's steps. Many of the injured were treated at the scene.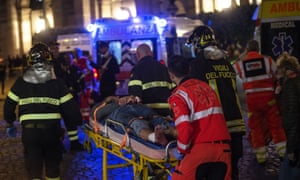 Emergency services outside the Repubblica – Teatro dell'Opera station on Tuesday evening. Photograph: Antonio Masiello/Getty Images
RAI, the state television broadcaster, aired a video of the incident, showing the escalator suddenly accelerating, with people piling up at the bottom. The top part of the escalator remained mostly intact, while several steps at the bottom completely collapsed.
"I just witnessed a scene from an apocalypse," said the witness. "An escalator, one metre from me, began to accelerate as if it was going crazy … what is happening in this city?"
The station was full of Russian fans at the time as they headed towards Rome's Olympic Stadium for the football match.
Italian media reported that the escalator broke after singing and chanting fans started to jump up and down on it. Beer bottles were found at the bottom.
"There has certainly been a failure of the escalator," Rome's chief firefighter, Giampietro Boscaino, said. "But we cannot say how it happened. It's a strange incident."
The investigations have been opened by Rome's public prosecutor and Atac, the company responsible for the city's public transport system. The metro station has been closed.
"Now we need to understand what happened," Rome's mayor, Virginia Raggi, said at the scene. "We are available for the injured and their families."
https://www.theguardian.com/world/2018/oct/23/hurt-in-rome-metro-escalator-incident